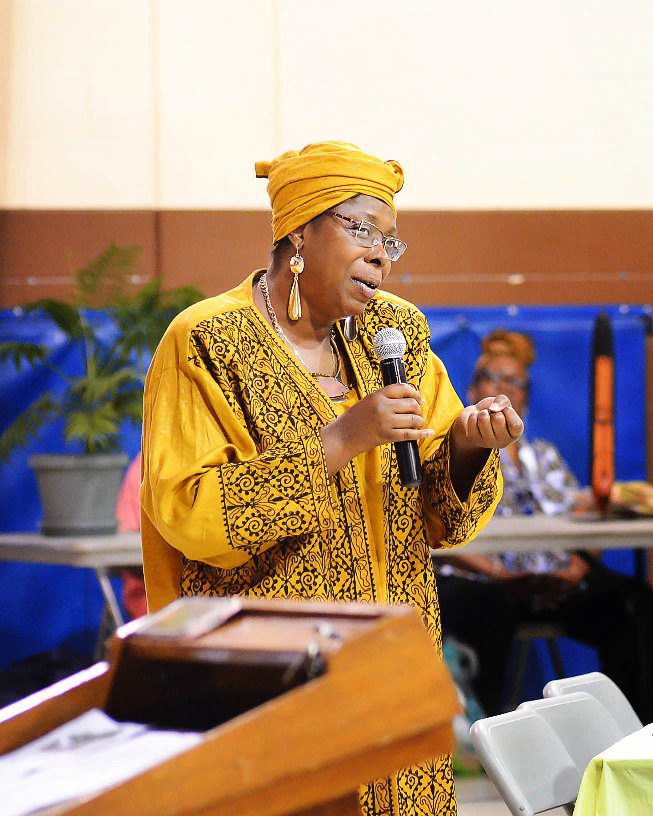 by Christine Commerce
On August 6, members of the African American Catholic community gathered at St. Andrew Parish in Orlando for prayer, reflection, discussion, and fellowship. The meeting was a prelude to the National Black Catholic Congress XII that will take place July 6-9 next year in Orlando. The Black Catholic Congress was founded in 1889 by Daniel Rudd, who was born to slaves in 1854, and is held every five years to support the spiritual, theological, educational and ministerial growth of its members.
Gretchen Demps Simmons, a volunteer with St. Andrew's who coordinated the event, said it was a day for reflection and an opportunity to bring topics of concern forward to send to Congress for next year's conference, which has the theme, "The Spirit of the Lord is Upon Me: Act Justly, Love Goodness and Walk Humbly with Your God!"
"The goal is to address issues relevant to black Catholics," said Simmons, who hopes to hold additional days of reflection leading up to the conference. "We don't want black people to feel like a stranger in the Catholic Church. It's important that we enrich ourselves and support each other."
Bishop Noonan led the opening prayer and spoke about the rich and beautiful traditions of black Catholics, who were way ahead of the Vatican when they first gathered in New Orleans in the 1860s.
"You created a vision for the Church…that was all embracing, all enculturating and all encompassing," Noonan said. "You, the African, American community have listened to the word of God and brought the gift of Christ to one another in hard times and in challenging times."
Noonan added that sometimes we try to categorize people and make them into something else but we need to respect the culture and dignity of each person and celebrate all cultures and their traditions.
Ada E. Crosby from Holy Cross Parish, who was a former ministry leader for the Ministry for Persons of African Descent at Holy Cross, spoke about social issues such as poverty, homelessness, feeding the hungry, adoption vs. abortion, gun violence, the relationship between the black community and police and social justice. To act justly, Crosby called for people to open their hearts not just their minds.
"Since fear and ignorance are like close first cousins; where you find one, you're sure to find the other," she said. "Help these dysfunctional family members by being an agent of healing."
Bishop Noonan also addressed the violence that has been erupting across the nation between blacks and police officers.
"The real issue is do we see Christ in one another?" asked Noonan, who spoke of the need to sit down and see each other as humans. "The road is long and full of many obstacles but we need to keep moving. We need to celebrate what each community is. We have to show we treat everyone equally and with dignity."
In addition to the call for education, Crosby encouraged others to get involved by voting, engaging in the community and becoming a mentor to high risk children.
"What God wants more than sacrifice is to love people as you love yourself and to do good," she said. "Act out of social justice, don't just talk about it. We've just got to hit the pavement and not just have conversations all the time."
Father Leo Hodges, pastor at St. Andrew Parish, said the Day of Reflection was a good way to get involved on a grassroots level.
"It's a great way to give life to the conference," he said. "Unity is part of the gospel message and to call that forth is what the church needs."
For more information on next year's National Black Catholic Congress, visit http://nbccongress.org.