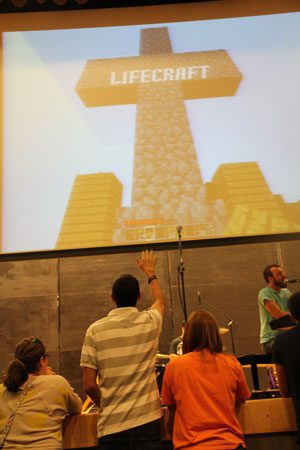 With a plastic spoon clenched between her teeth, Gabby gingerly passed a gumball to the spoon held by her friend, Marianna. After successfully completing the task, the teens from Holy Family Catholic in Orlando, excitedly watched as the gumball, passed spoon to spoon by their teammates, made its way down the line. When it reached the 10th person in line, the teens yelled, "Alleluia," signifying that they had completed the challenge.
The activity was part of the "Blessed are the Meek" workshop, a lesson on patience and perseverance. It was one of six workshops presented at Diocese of Orlando Life Rally for Youth, held Oct. 5 at Holy Family Catholic. Nearly 600 high school students from 13 parishes throughout the diocese attended the event, presented by the Diocese of Orlando Office Advocacy and Justice.
Playing off the popular video game, "Minecraft," where players use blocks to build imaginative worlds, the theme of the rally was "Lifecraft," and instead of building a new world, the teens learned how to build the kingdom of God by living a life based on the beatitudes. Deborah Shearer, director of the Office of Advocacy and Justice, said the topic was fitting, especially for today's teens.
"Today's culture is selling kids a whole agenda, a whole lifestyle, a whole way of thinking and behaving that is not healthy," she said. "Our goal through events such as the Life Rally is to equip teens with better tools and affirm that they can live their faith in today's world. The Church's values are good values. They are healthy. They are wholesome, and they are going to save us in the end."
Justin Reyes, Youth Ministry Coordinator at St. John Vianney Catholic in Orlando, brought five teens from his parish to the event. He said he looks forward to the rally because of what it instills in the teens.
"It is a very fun, dynamic and engaging event that has been very successful at teaching kids how to bring their faith out into the world in light of the issues they are dealing with," he said. "Today's teens struggle with what they are supposed to look like, as believes, in today's world. They hear a lot of other messages at school and that are contradictory to our Church's values. This event helps them better live their faith."
During the celebration of Mass, Father Jorge Torres, director of the Diocese of Orlando Office of Vocations, spoke to the teens about human dignity and living a life that is right and just.
"The dignity of the human person does not depend on your work, how much money you have, or what you can do," said Father Torres. "We are valuable because we are made in the image and likeness of God. Every person has an inherent value because they are created in the image of God. You have been invited to follow God and to recognize that."
"The dignity of human life is precious," he continued. "If each one of us can uphold that message, it would be an incredible grace so that not only you but all the people we meet can know that we are created in the image and likeness of God. That is a message that needs to be treasured."
The evening culminated with a concert by Ayleron, a Catholic band from Lafayette, La., and pizza.
Christopher Klemm, a senior at Dr. Phillips High School in Orlando, said he enjoyed the rally and will take a lot from it.
"I wanted to come today for the spiritual development that comes with this because I know as they teach me, later on I can teach younger generations," he said. "I want to be a good role model for others and to someday be a leadership in the spiritual development of this society. These speakers have learned a lot and are very faith filled. I want to pass that knowledge and faith down to everyone I meet."