They came in uniform, men and women in blue and all colors, to pray for God's protection and to honor the sacrifices of those lost in the line of duty. Close to 1,000 people gathered for the 10th annual Blue Mass at St. James Cathedral on Sept. 29, the Feast Day of St. Michael the Archangel, patron saint of public safety personnel.
Bishop John Noonan was principal celebrant of the Mass, which included opening and closing processions by the Orlando Fire Department Pipe & Drum Corps and the Knights of Columbus. Bishop Noonan honored all public safety personnel during his homily, asking that St. Michael "always be there to protect you, to guide you and to return you safely home to your families."
"In our busy world, people can become self-absorbed, and in our daily lives we can become insensitive to the needs of others," Noonan said. "Yet, when you are summoned by great challenges and dangers at a moment's notice, you are there to serve. You are there to do your work professionally and efficiently despite the dangers."
The first Blue Mass was celebrated on Sept. 29, 1934, by Father Thomas Dade of the Archdiocese of Baltimore. More than 1,100 police officers and firefighters dressed in blue uniforms marched into St. Patrick's Catholic Church in Washington, D.C.
For several years, the Blue Mass was held on Sept. 11, to remember those killed in the Sept. 11, 2001 attacks. Lawson Lamar, State Attorney, Ninth Judicial Circuit of Florida, said the Blue Mass not only honors those that made sacrfices that day, but honors those who help others on a daily basis.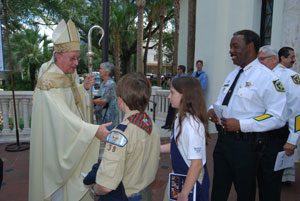 "People who dedicate their lives helping others need to be recognized and honored," Lamar said. "The payoff for their work is knowing they have made a difference in life. The Diocese is kind enough to provide a wonderful setting in which everyone can get together to remember those who have fallen, those that have given, and ask God's help in our future endeavors."
Chief Paul Rooney, Orlando Police Department, said the Mass was important to all those who serve the community. "It brings everybody together," said Rooney, who attends St. Francis of Assisi in Apopka. "I have been participating in the Blue Mass for years. Being a Catholic, it means a lot to me. It's a way to acknowledge and thank us for the services we render, but it works both ways. We can't do it without the community and the church."