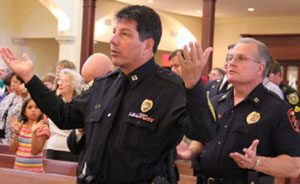 The Diocese of Orlando's annual Blue Mass, to be celebrated by Bishop John Noonan at 12:10 p.m. Monday, Sept. 30, will be streamed live from St. James Cathedral, Orlando.
To access the live stream, visit www.orlandodiocese.org/stream. The stream will begin around noon.
Community members are invited to participate in the celebration of the Blue Mass and to pray for the safety of our dedicated first responders who put their lives in harm's way for our protection. The annual Blue Mass remembers the dedicated men and women in law enforcement, fire/rescue and public safety who serve our communities throughout Central Florida.
The Blue Mass also includes a bagpipe and color guard procession.