As the Baccalaureate Mass for Bishop Moore Catholic High School (BMCHS) neared its end, a hush fell across the Basilica of the National Shrine of Mary, Queen of the Universe, as Bishop John Noonan stood before the graduates, clutching a Light of Faith Award close to his heart.
Continuing with the theme of his homily, Bishop Noonan addressed the class, saying he was inspired by them from their earliest days when they first celebrated Mass together as a class; throughout the years as they celebrated sports victories, served as missionaries in our sister diocese in the Dominican Republic, made an impact on the lives of their Morning Star peers and more; but most importantly as they rallied around their classmate, 17-year-old Joe Skinner, as he battled a rare form of leukemia during the final months of their senior year. Never losing his faith in God, Joe lost his battle to cancer on April 30.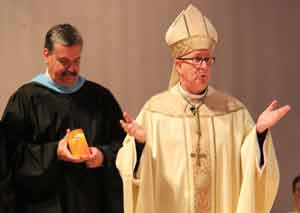 "Two weeks ago, you really showed who you were about when one of your classmates, Joe Skinner, died," Bishop Noonan said. "Joe was an example of the spirituality of the Class of 2016. He was a leader of faith. I heard many of you speak on his focus on God. Joe showed us how to love fully. So, in memory of Joe Skinner, I present this Light of Faith Award to you, the graduating class of 2016."
It was a poignant moment for the class.
"When Bishop Noonan surprised us at the Baccalaureate Mass with the Light of Faith Award, we were very humbled," said Tom Doyle, president of BMCHS. "This award truly belongs to our students. While BMCHS presents the opportunities, the students are the ones who choose to live our Catholic faith in their many experiences at BMCHS. We are honored that our students have been recognized for the way in which they live the Gospel."