NEW SMYRNA BEACH | On Nov. 2, Father Aldrin Nunes, parochial vicar of Sacred Heart Parish in New Smyrna Beach blessed boats and sailors at the New Smyrna Yacht Club, perpetuating a centuries-old tradition of The Blessing of the Fleet. Originating in southern Europe, Catholic priests blessed boats rotaotand sailors in fishing communities against the harrowing whims of the sea. The tradition came to the U.S. in the 1800s. Today, priests as well as pastors of other faith traditions offer the benediction. The blessing is meant to ensure a safe and bountiful season.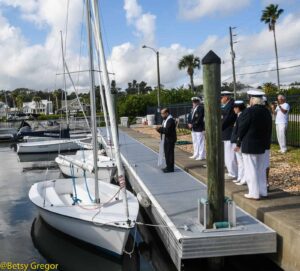 "We do this to pray for protection and safety, against hurricanes, tornadoes and the dangers of the sea and to take care of the community," said Father Nunes. He hopes those gathered "experience the protective care of God, and his comfort, especially His compassion."
Clergy from Sacred Heart Parish have been providing the blessing for years at the behest of the yacht club. "Being an old salty sailor, I have great respect for the sea and the boats and the wind," yacht club Fleet Captain Karen North said. "To know that there is a higher presence looking out for us while we're on the water is a really big deal."
The blessing date moved from May to November this year, leading to a larger attendance than usual, with nearly 30 officers and boat owners anticipating the invocation.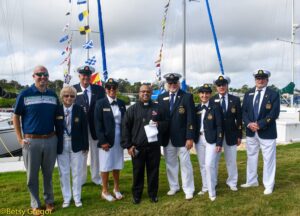 "It assures them by word and action that God is our creator and cares for all that He has created," said Father Nunes. The parochial vicar believes the blessing allows those present "to experience God who is just a prayer away, just a call away, just a shout away. That they may experience how much he loves them unconditionally."
By Glenda Meekins of the Florida Catholic  December 2, 2019