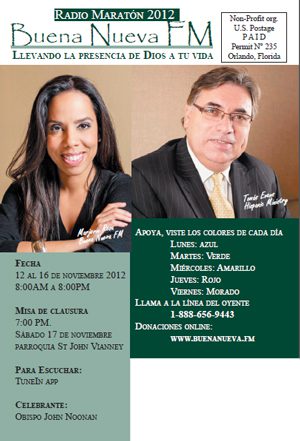 Thanksgiving Radio Marathon November 12-16
Buena Nueva FM invites you to participate in the 'Thanksgiving Radio Marathon' from Monday, November 12 to Friday, November 16 from 8:00am – 8:00pm. This Radio Marathon is very important for the radio ministry of the Diocese of Orlando. Buena Nueva broadcasts the daily Mass along with great local, national and international programs. Recently, Buena Nueva added English programming, including the Mass on Saturdays at 5:00pm.
Please encourage your community, family, and friends to support this Diocesan Radio Ministry calling 1-888-656-9443 to make their donations. Listen to Buena Nueva on the Internet: www.buenanueva.fm or on your phone with TuneIn Radio app. We will also have video streaming throughout the week.
Other English radio shows include:
Poetry and Prayer with Dan Hardester, Fridays at 2:00pm
Pastoral Ministries Updates with Heidi Peckham and Christine Shields, Fridays at 11:30am
Foundations with Ed Wardle, second Monday of the month at 2:00pm.
Live out Loud with Deborah Shearer and Alejandro Luciano, Fridays at 10:00am
Holy Mass from St. John Vianney, Saturdays at 5:00pm
More information: 407-246-4884 or mrosa@orlandodiocese.org
Thanks for your support and help.