"Angels" support Catholic radio ministry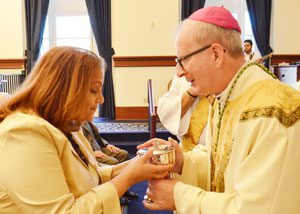 Bishop John Noonan celebrated Mass on May 23 at the Diocese of Orlando Chancery for those that made special monetary donations during the recent radio-a-thon for Buena Nueva FM in Orlando.
During his homily, Bishop Noonan praised the efforts of those that contributed to the success of the radio-a-thon, held the week of April 16-20. Bishop Noonan also told those donors that they are like angels of God.
"Our angels share their faith through Buena Nueva each day," Bishop Noonan said. "I pray to God to continue to bless the Diocese of Orlando and Buena Nueva and its angels so we can continue to do the Lord's work now and forever."
The station featured 12-consecutive hours of programming during the five-day radio-a-thon, and featured daily Mass and music bands. All of the programming was streamed live audio and video on the station's website, www.buenanueva.fm. The station received donations totaling more than $39,000, which will go toward operating and equipment costs as well as the creation of a new website.
The Buena Nueva FM staff also treated several members to a buffet-style lunch following the Mass.