Students, faculty and staff of Melbourne Central Catholic High School joined Bishop John Noonan, Brevard County clergy, high school president Michael Burke, and community dignitaries and business leaders on April 27 for a groundbreaking ceremony to mark the construction of two new buildings on the MCC campus: The Donovan Family Commons and the Erdman Automotive Group Field House.
The project was made possible through the community's Build to Serve campaign, which to date, has raised $3.1 million of a $3.8 million goal. It is part of a master plan that includes a total of four new buildings, the renovation of four existing buildings, supporting infrastructure and improved traffic patterns and security through campus.
"We have worked hard to make sure that our vision for the future makes sense from both an educational perspective as well as a stewardship perspective, Burke said. "This is a great day for MCC as we kick off a construction campaign that erratically alters our campus and improves the educational experience for our students."
Bishop Noonan concurred, and addressing the students, said that they were the future, and this project was an investment in them.
"We want you to be proud of MCC," he said, "We are giving you something that no other school will give you. Let the work we are to begin today enliven our faith and make us all grateful."
The Donovan Family Commons, supported by John & Tiffany Donovan, will consolidate all administrative and student services under one roof as well as serve as a central check-in point for all campus visitors. The new facility will enhance campus safety and security by serving as a sole point of access and will be located on the footprint of the existing administrative building which will be replaced by a new structure.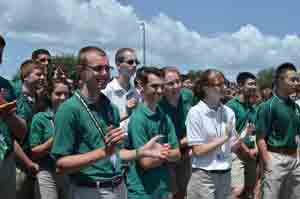 The Erdman Automotive Athletic Field House will be located on the west side of the stadium bleachers. Underwritten by MCC parents, Mike & Freddie Erdman, the new field house will include locker rooms, storage areas and meeting space.
Henry Fortier, diocesan superintendent of Catholic Schools and secretary of Education, commended Burke on his vision for the school.
"During Mr. Burke's tenure, we have really ignited the foundation and charism of the Franciscan spirit within the community. The academics are second to none as are the athletics," he said. "MCC is doing an outstanding job in Brevard and throughout our diocese. God bless you as we continue this journey to the future."