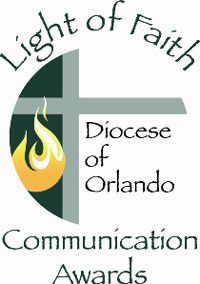 Representatives from parishes and schools are invited to enter the 4th annual Light of Faith Awards Program by providing samples of their printed, digital and communication materials to be evaluated by our panel of judges. Judges will provide you constructive feedback on your entry. This process will provide a wonderful opportunity for the exchange of ideas and the enhancement of communication efforts. Your entry could be chosen to receive a "Best Practice Recognition." Click here for entry application. Deadline is February 1, 2013.
Everyone who submits an entry will be invited to the Light of Faith Luncheon on April 23, 2013 from 12:30 pm to 2:00 pm. During this luncheon, we will have a special guest speaker, Helen Osman, Secretary of Communications for the United States Conference of Catholic Bishops. She will speak about the theme designated by the Holy Father for the 47th World Communications Day: Social Networks: Portals of Truth and Faith; New Spaces for Evangelization.
After the luncheon, all are invited to a "Communications Roundtable" from 2:30 pm to 4:30 pm led by Helen Osman on the "Challenges and Blessings of Communications in the 21st Century." During this roundtable we will all have a chance to hear about best practices from our parishes and schools in the area of communications and evangelization.
Then, from 5:00 p.m. to 6:00 p.m., there will be a Light of Faith prayer service led by Bishop John Noonan at St. James Cathedral. During the prayer service, we will all seek God's guidance for our ministry and ask for His blessings to be poured upon the Catholic Church in Central Florida so that we may serve as Witnesses to Hope and fulfill His mandate to "make disciples of all nations, baptizing them in the name of the Father and of the Son and of the Holy Spirit" (Matthew 28:19).
For more information contact Teresa Peterson at 407-246-4811 or tpeterson@orlandodiocese.org or click here.