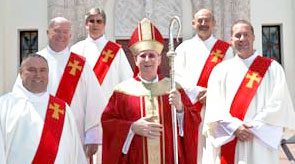 The call to the Permanent Diaconate is a call to a lifelong pursuit as a servant in every aspect of our life. This call is more than a desire to serve the Church in ministry, a desire to serve God, or a specific pathway to holiness. The character of a deacon is a calling to a way of life that reflects the nature of Christ – emptying oneself as a servant to others. If you feel you have the character of a servant and call to become an ordained Permanent Deacon, please contact your pastor and discuss this call. You and your wife (if married) must attend one of the following regional information nights:
Tuesday, January 21, 2014 (7:00 – 9:00 p.m.)– Church of the Resurrection, Lakeland (Sheedy Center); 3855 S. Florida Avenue; Lakeland, FL 33813.
Thursday, January 30, 2014 (7:00 – 9:00 p.m.)– Holy Name of Jesus, Indialantic (Room 101); 3050 N. Highway A1A; Indialantic, FL 32903.
Thursday, February 6, 2014 (7:00 – 9:00 p.m.)– St. Mary Magdalen, Altamonte Springs (Mother Teresa Room); 861 Maitland Avenue; Altamonte Springs, FL 32701.
These meetings will provide an overview of the restoration of the Permanent Diaconate and information regarding the requirements of the program, as well as explain the character, call, and roles of the Permanent Deacon. Members of the Deacon Formation Committee will present an overview of the program and will be available to answer questions. To assist in planning and to ensure we have adequate program materials at each meeting, please contact Christine Shields at the Permanent Diaconate to let her know you plan to attend. You can reach Christine by mail at 50 East Robinson Street, Orlando FL 32801; by phone at 407 246-4898, or by email at cshields@orlandodiocese.org.