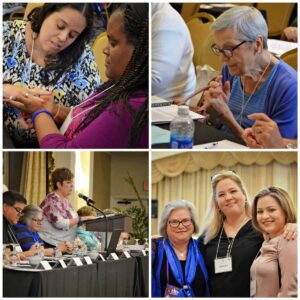 "Who is God calling you to be in this moment, today, here at this ODCCW (Orlando Diocesan Council of Catholic Women) convention?" challenged Mary Matheus, President in her opening address. "God is calling us to serve."
The 49th annual convention held at the Daytona Beach Plaza Resort and Spa April 21-24 focused on merciful leadership and 150 women from throughout the diocese responded to the call. Guest speakers addressed human trafficking; the expanded services of Catholic Charities of Central Florida; the skills inherent in a merciful leader and the servant leadership of our seminarians responding to priestly vocations.
Bishop John Noonan culminated the event presiding at Mass and banquet and thanked the women for their generosity, service and invoked their leadership in the upcoming Year of the Eucharist.