NEW SMYRNA BEACH | "Often times, us humans take it for granted that we are put onto such a beautiful planet," said Davison, a senior at Bishop Moore Catholic High School after a recent field trip to the Marine Discovery Center in New Smyrna Beach. "Year after year, we cut down habitats and throw trash into the oceans without a second thought. We neglect to think of the implications our actions have." Two groups of students visited the marine center to learn about habitat destruction, restoration and how they can be an integral part of healing the planet. Upon their return, they reflected on their experiences and how Laudato Si, Pope Francis' encyclical On Care for Our Common Home, applies to caring for habitats close to home.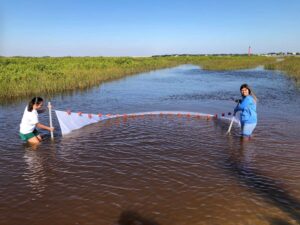 Teachers Kim Story and Lucie Dempsey take Advanced Placement (AP) and Honors Environmental Science classes to the center each year to foster understanding of habitats, ecosystems and their vitality. Students participated in land-based activities, kayaking through mangroves, and a guided boat tour to observe wildlife in the Indian River Lagoon, the most biologically diverse estuary in North America. The boat tour took the group to Disappearing Island, where the students learned how to seine net (a fishing method that avoids ocean basin destruction) and were able to explore the island using dip nets to catch different types of fish and marine invertebrates which they later released, explained Story.
"I learned about the importance of oysters filtering the water of Florida's ecosystems," said Adeleine, who participated in the Shuck and Share Program, which focuses on recycling oyster shells in order to form new oyster reefs. Emily, an eleventh-grader explained, "In recent years, due to overharvesting and human activity (such as boat wakes), oyster reefs in Florida have been severely damaged and destroyed." This knowledge resounded for Emily in Laudato Si's reflection, "(The earth) cries out to us because of the harm we have inflicted on her by our irresponsible use and abuse of the goods which God has endowed her."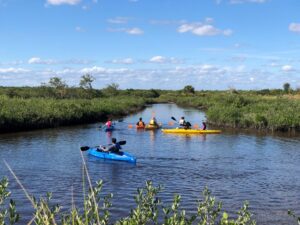 Adeleine admits, she was previously unaware of habitat destruction in the lagoon. "…I felt helpless when learning about the excessive worldwide consumption… it opened my eyes to the fact that humans have the ability to make a difference and learn about the environment." Through Shuck and Share, volunteers collect oyster shells from area restaurants and then bag them and use them as reefs. Students relished participating in the project.
"Although the challenges facing Florida's biodiversity are troubling, through science we have been able to mitigate the effects of these problems and even help wildlife flourish," said Jackson. He added, Laudato Si notes, "Yet all is not lost. Human beings, while capable of the worst, are also capable of rising above themselves, choosing again what is good, and making a new start."
The statement gives Sidney, a senior, hope. She looks to Pope Francis's words as a guide. "We must regain the conviction that we need one another; that we have a shared responsibility for others in the world, and that being good and decent are worth it."
As the Marine Discovery Center works to restore shorelines in New Smyrna Beach and around the world, Bishop Moore students are finding that they too can forge new roads for a healthier future. "We only have one earth, as we have only one life to live," said Kiran. The decisions we make for our world will change the lives of those to come, the livelihood of the future of our nation, and all of the interactions between these two."
By Glenda Meekins of the Florida Catholic  November 26, 2019