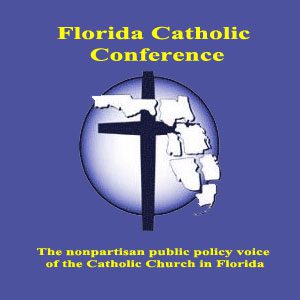 Tallahassee (September 25, 2013) – The Florida Catholic Conference appeals to Governor Rick Scott to spare the life of Marshall Gore, scheduled for execution October 1. At the same time, we recall with profound sadness the brutal murders of his victims, Susan Roark and Robyn Novick, and pray their families are able to realize true peace and healing.
Even those who have committed terrible deeds and caused great pain possess a human dignity that is inherent in all persons. This dignity, instilled by our Creator, is neither earned nor can it be forfeited. Mr. Gore's execution serves only to further distort society's understanding of the sacredness of all human life. With this deliberate taking of a life, the State demonstrates that killing is an acceptable manner in which to address harmful and hurtful acts. We believe it is not.
The State's responsibility to protect society and punish criminals can be accomplished without resorting to the death penalty. A sentence of life in prison without possibility of parole is a severe punishment, which allows for the prospect of conversion for the sinner and gives us the opportunity to forgive their wrong doings.
Catholic faithful and members of the community are invited to gather in solidarity at the following times and locations to pray for the victims of violent crimes and their families, for persons on death row awaiting execution, and for the end of the use of the death penalty:
Archdiocese of Miami
A prayer vigil will be held following 11:45 a.m. Mass on Tuesday, October 1 at St. Martha Catholic Church, 9221 Biscayne Boulevard, Miami Shores. Contact: Juan Di Prado, (305) 762-1046, jdiprado@theadom.org.
Diocese of St. Augustine
Prayer vigils will be held on Tuesday, October 1 at the following locations:
Additional Contact: Kathleen Bagg, Office of Communications, Diocese of St. Augustine, (904) 262-3200.
Diocese of St. Petersburg
Spirit FM 90.5 WBVM Tampa will be praying on air Tuesday, October 1 beginning at 5:50 pm. Spirit FM is also available on the internet (www.spiritfm905.com). Contact: Sabrina Burton Schultz, (727) 344-1611, sab@dosp.org.
Diocese of Orlando
St. Patrick Catholic Church, 6803 Old Hwy 441 South, Mount Dora will host a prayer service on Tuesday, October 1 at 3:00 p.m. Contact: Bernard Welch, blwmm@embarqmail.com.
A bus will be leaving from the parking lot of Our Lady of Lourdes Catholic Church, 201 University Blvd., Daytona Beach, on Tuesday, October 1 at 2:30 p.m. for a prayer service outside the Florida State Prison in Starke. Contact: Office of Advocacy and Justice, (407) 246-4819, advocacyjustice@orlandodiocese.org.
Diocese of Pensacola-Tallahassee
A holy hour will be held at St. John the Evangelist Catholic Church, 1008 Fortune Avenue, Panama City on Monday, September 30 at 7:00 p.m. (CDST). Contact: (850) 763-1821, stj.office@knology.net or Peggy DeKeyser, Office of Communications, Diocese of Pensacola-Tallahassee, (850) 435-3528, dekeyserp@ptdiocese.org.
Diocese of Palm Beach
Catholic Charities Respect Life Office in partnership with the Diocese of Palm Beach and Pax Christi will host a prayer service on Tuesday, October 1 at 5:30 p.m. in the Chapel at the Cathedral of St. Ignatius Loyola, 9999 N. Military Trail, Palm Beach Gardens. The service will be followed by a procession and silent vigil in front of the Cathedral from 5:45 – 6:15 p.m. Contact: Dianne Laubert, (561) 313-2280, dlaubert@diocesepb.org.
Diocese of Venice
A prayer vigil will be held in the Chapel at St. Katharine Drexel Catholic Church, 1922 SW 20th Avenue, Cape Coral on Sunday, September 29 at 7:00 p.m. Contact: (239) 283-9501.
Our Lady of Mount Carmel Catholic Church, 425 South Tamiami Trail, Osprey will hold a prayer vigil on Tuesday, October 1 from 5:30 to 6:30 p.m. Contact: Janine Marrone, (941) 497-4917.
In addition, Tallahassee Citizens Against the Death Penalty will sponsor a community prayer vigil scheduled for Tuesday, October 1 at 6:00 p.m. in front of the Governor's Mansion in Tallahassee and an interfaith Service of Remembrance in the Capitol Building Plaza Level Rotunda the day after the execution, Wednesday, October 2 at noon. Contact: Sheila Meehan, (850) 524-0080.
The Florida Catholic Conference is an agency of the Catholic Bishops of Florida. The archbishop and bishops of the seven (arch)dioceses in Florida constitute its board of directors.