What began as a fun family vacation to the beautiful Exuma Islands in the Bahamas, ended up opening the eyes and hearts of two Father Lopez Catholic High School students. The experience moved them to begin a charity project that would ultimately help a needy school for years to come.
Cameron, a senior at Father Lopez in Daytona and his brother Blake, a junior visited Staniel Cay in 2014. Several of their friends who previously visited shared that the local school could use some help. "We knew we were going to have such a great time, so we wanted to give back to the people who were giving us some fun," said Cameron. So the brothers brought supplies to donate.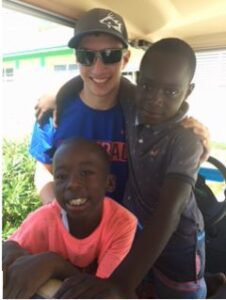 Seeing what they had done, many locals shared that their neighboring island of Black Point had a larger school in even greater need. The brothers took a trip and confirmed what they heard. "In contrast to the natural opulence, the school on Black Point is underfunded and in need of many basic supplies," noted Cameron. "We saw that we could make a big difference." Cameron explained the classrooms looked empty and the tools were outdated.
Although the siblings began gathering supplies as soon as they returned home, they wanted to establish a charity that would enable them to continue giving in the years ahead. In 2016, they began an official non-profit named Black Point Provisions, identifying the greatest need areas with the help of the All Grades Black Point School principal in hopes of raising money to buy and ship items on a regular basis.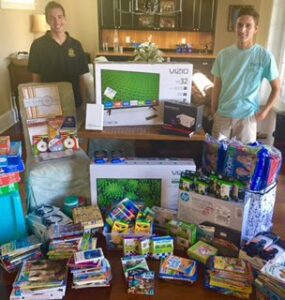 Some businesses have joined to assist, donating sunglasses and hygiene items. As money is raised, items such as printers and books are purchased and shipped. "Even the smallest contribution can make a big difference in the lives of the students of Black Point," says Cameron. "Going to Catholic school, we've learned that we are always to give back to the poor and those in need. We saw this as a great opportunity to do that."
Father Lopez president Pat LaMorte said, "Blake and Cameron worked very hard and took the spirit of service that is a huge part of our school, to another level. When they came to me and asked if we would be a part of it, it was a no-brainer." He added, "To have two young men identify a need and want to be a huge part of the solution shows them living their faith beyond the walls of their Catholic high school. Father Lopez Catholic High School contributed to their efforts via donation and Facebook postings. We are very proud of Blake and Cameron!"
Click here to make a donation to their GoFundMe campaign.
By Glenda Meekins of the Florida Catholic – January 24, 2018