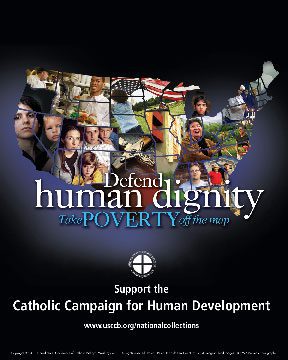 For more than 10 years, Liz Buckley, executive director of the Federation of Congregations United to Serve (FOCUS) in Orlando, along with a small staff and a group of dedicated volunteers, have worked fervently to bring a voice to the voiceless. Their efforts have centered on getting new parks, after school programs and nutritious lunches into the schools of underserved communities, speaking on behalf of former felons seeking a right to vote and the immigrant wanting a chance to call the United States home.
Her organization is one of the local beneficiaries of the national Catholic Campaign for Human Development (CCHD).
"The core purpose of FOCUS is to empower people who are directly impacted by community issues to be agents of change," she said. "So it is about living out our Catholic social teaching in the world and making sure our faith values are expressed in our public action."
Established in 1992, FOCUS is a grassroots, multicultural, interdenominational community organization that empowers low- and moderate-income families with leadership training and skills that build relationships for community change. The 15 congregations, including Good Shepherd, St. Andrew, St. Isaac Jogues, St. James Cathedral, St. John Vianney and St. Margaret Mary parishes, represent 30,000 families working together to improve the quality of life for families.
"Without the support from CCHD, the windows of opportunity to serve the underserved would come and go; they might close," Buckley, a parishioner of St. Margaret Mary, said. "It gives our small staff the capacity to move quickly when it is required, and to really make a difference in lifting up the voices of real people, particularly in the context of faith values. That is what is most important."
The CCHD was established in 1969 by the U.S. bishops to address the root causes of poverty in the United States. Bishop John Noonan said it is an expression of the social doctrine of the Catholic Church by providing an opportunity to live out the Gospel in a very tangible way. It was created to help those who are poor and voiceless in their communities find a way out of poverty by investing their ideas and input into the decision-making of public policy and the allocation of resources in their local communities.
Twenty-five percent of the proceeds from each CCHD collection stay in each diocese to address issues of poverty and foster liberty and justice at the local level. CCHD uses the national portion of the collection to fund projects across the country through grants. These grants fund community efforts to promote human dignity and fight poverty. Many of the funded projects focus on health care, immigration, community safety, political participation and environmental justice.
"The Gospel of Jesus tells us to care for our brothers and sisters in need," Bishop Noonan said in a recent letter to the faithful. "Jesus calls us today in our world to assist others to find creative solutions out of poverty so that we are able to break the cycle of dependence and powerlessness in society."
Parish volunteers and leaders collectively have worked to improve the quality of health care, immigration reform, affordable housing, drug treatment services and more recently transitional services and re-entry programs for those coming out of prison within their communities, he added. They work tirelessly to promote the dignity of all our brothers and sisters, particularly in vulnerable areas of our communities.
Deborah Shearer, director of the diocesan office of Advocacy and Justice, which also receives funding from the collection, said organizations that receive funding from CCHD must comply with a rigorous application and reporting process. Each diocese is responsible for the close scrutiny and approval process through the application procedure and oversight of the use of funds. In the Diocese of Orlando, the staff of the Office of Advocacy and Justice, under the guidance of Bishop Noonan, is responsible to ensure every applying organization has complied with the strict criteria and guidelines of the national USCCB/CCHD office.
"Our young people have also learned about the Beatitudes in a very real sense through the CCHD Youth Arts Program in which our schools and religious education students learn about poverty within their community and how to become a part of the solution," said Bishop Noonan.