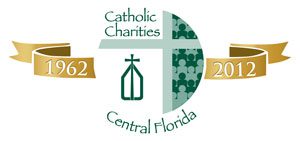 Rather than a time of joy and celebration, Christmas can be a time of despair for families who are already struggling to make ends meet. Catholic Charities of Central Florida has operated an Adopt a Family program for over ten years to bring hope back to Christmas for those in need. This year over 40 community sponsors are helping to provide Christmas gifts to 107 local families.
Gifts are provided for selected families currently undergoing case management from Catholic Charities. Anthony belongs to one of the families receiving gifts this year. The sole provider for his family, he came to Catholic Charities for assistance after complications with his wife's surgery temporarily kept him from work. Thanks to generous donations, Anthony, his wife, and their three young children will each enjoy a Christmas dinner, a new set of clothes, and a special gift.
Catholic Charities will distribute gifts by appointment to families beginning on December 17, 2012.