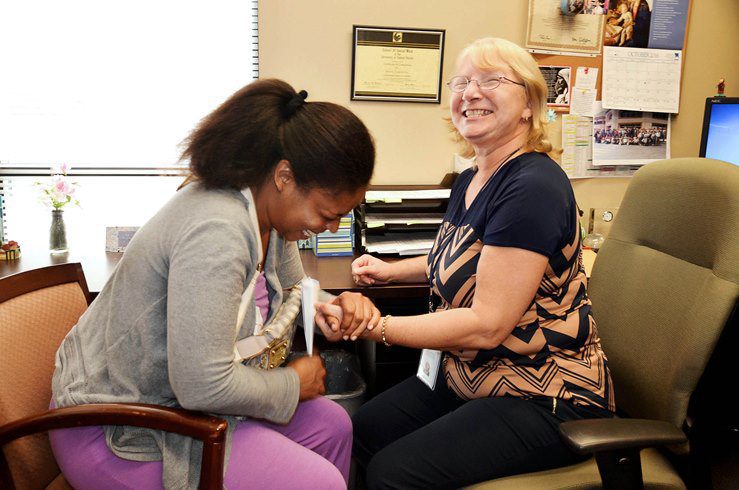 Support the Annual Collection for Catholic Charities of Central Florida on Oct. 22 & 23 to raise much needed funds to respond to the needs of the poor and vulnerable throughout the 9 counties of the Diocese of Orlando. Your donation will help individuals and families in crisis to obtain rent, food, and emergency medical care as they are empowered become self-sufficient.
by Jennifer Powers
Ada Martinez was in trouble.  She was about to be evicted and time was running out.  She called Catholic Charities of Central Florida and they gave her an appointment—April 5th–the date that she says changed things for the better.  "It was a humbling experience," recalls Martinez, a single mother, who found the hope she was seeking from the Family Stability program at Catholic Charities.  "I had to do what I had to do, swallow my pride and admit I needed some help."
Martinez and her husband of 18 years had separated, leaving Martinez with an apartment that she could no longer afford on her income. "I was one month behind on my rent, and was trying to pay it, but they wanted to evict me anyway. They wouldn't work with me," says Martinez.
Afterwards, Martinez and her 16 year old daughter had no money and no place to live.  "We had to move out, put all our belongings in storage and move into a hotel for a while," she says. For several weeks, Ada and her daughter had to share a small hotel room, which gave them no privacy and nowhere to cook.  "We had to eat out all the time," says Martinez, who is a professional chef. Eating out took a toll on Martinez' budget and she was unable to save the deposit money needed to get into stable housing.
Catholic Charities assigned her to case manager Anita Capetillo, with the rapid rehousing program at Catholic Charities, a program aimed at getting homeless families self-sufficient and into stable housing quickly. They provided her with food that did not require cooking from their food pantry, which alleviated some of the costs. Soon, Capetillo was able to find an available hotel with a kitchenette, which freed up some of Martinez' budget so she could begin to save for permanent housing.
"We looked for ways she could cut her expenses," explained Capetillo.  "At the time, she could only save about $25 per paycheck.  She lived on a really tight budget, but she kept doing it."
Martinez meets with her case manager every week, either in the office or at her house.  "We check in to see how they are progressing, problem solve and monitor their monthly budget," explained Capetillo, who will meet with her client for up to a year if needed.
In June, Martinez had saved enough money to enable her to move into permanent housing.  "She is my star client," says Capetillo.  "She didn't let anything stop her. She found a place to live and a job. She has been on it."
Martinez is just one of the lives that has been transformed working with Catholic Charities. The dedication of the case managers, the perseverance of the clients, and the support of the faithful in the Diocese of Orlando help make these transformations a reality. The Annual Collection, which takes place in parishes across the diocese on the weekend of Oct. 22 & 23, helps provide emergency funding to individuals and families in crisis. The generous donations from parishioners help fill the gap where program funding limits or restrictions leave the client short of fully meeting their urgent needs.
We strive to do everything we possibly can to help families experiencing financial challenges find hope," says Catholic Charities executive director, Gary Tester. "We are blessed to be stewards of many different public funding streams that help us to provide assistance when families in need meet very specific conditions. However, many families have needs that don't qualify for this type of assistance. The Annual Collection provides unrestricted, flexible funding to help us help those most in need. The corporal works of mercy we seek to extend to those we are truly privileged to serve are made possible in large part to the passionate support of those who contribute to the annual collection.  We are grateful!"
"I feel really good about what I've been accomplishing.  I'm moving up, one day at a time.  I'm not having to financially rely on anyone but myself," says Martinez.  "It's a lot of little things and it's becoming a big thing. It's a good feeling."   Martinez hopes one day to own a food truck of her own and serve her favorite cuisine—Mexican food.
Martinez says that the program has been so helpful that she is now an advocate, and tells everyone about it.  "I tell people to call 211, and schedule an appointment with Catholic Charities," she says. "People need to know that when you are low, kicked down, there is a way.  You have to want it and work for it, but you can do it."