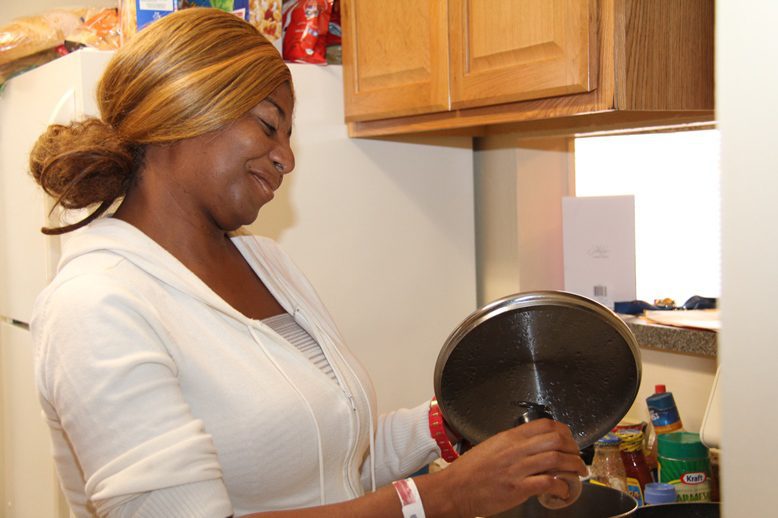 By Glenda Meekins
ORLANDO/ Carmelita and her son, Isaiah, 17 were living on the streets. After her mother's death in 2014, she moved her family from Chicago to Orlando in hopes of a fresh start and a better life. But as many families have experienced, getting back on her feet was harder than she anticipated. Her son was frustrated and angry and she wondered if she had made the right decision.
"Without Catholic Charities, we would still be on the streets," said Carmelita. She glanced at Catholic Charities of Central Florida (CCCF) case manager Anita Capetillo and smiled, "I don't know what I would do without her. She helped us get a place to live. She found me furniture. She got us food. We didn't have anything. I can't even explain to you what this means."
Upon arriving in Orlando, Carmelita had found a job working as a telemarketer, but was not making enough money to rent a home or an apartment. She was living paycheck to paycheck in hotels then she lost her job. With no savings to fall back on, Carmelita and her son needed help.
She was staying at the Coalition for the Homeless for nine months, and then the Homeless Services Network connected her to Catholic Charities of Central Florida in April of 2016.
Catholic Charities found her an apartment and has been providing her rent through the Orange County Rapid Re-housing grant since May 2016. Catholic Charities has also been providing case management to help her become self-sufficient. Case management includes employment services, budget counseling, education, resources and transportation. Case Management can last up to two years. Catholic Charities partnered with St. Vincent de Paul Society in Apopka to provide Carmelita furniture for the two bedroom apartment. Catholic Charities also provided the basics of pots and pan, utensils, and linens.
Capetillo said she remembers the first thing Carmelita did when she got to her new apartment. "She was so excited about being able to cook her own food," said Capetillo. "At the Coalition, you eat the food that is provided and it's on a schedule. Carmelita was just happy to make a home cooked meal."
Carmelita laughed heartily as she recounted, "I told Anita to bring me sweet potatoes and cabbage and pork chops. I was so happy! It was so nice to be able to cook in my own kitchen."
Heather Knoop, Program Manager for the Family Stability Program said it is all part of CCCF's strategic plan to align with homeless services. She explained the idea behind the grant. "Rapid rehousing is different from our Family Stability Program (FSP) because we are housing the literally homeless, as opposed to preventing homelessness. With this rapid rehousing program, which means exactly as it reads—we house the homeless families first and then do home-based case management, linking them to other resources in the community, to sustain housing through increased income, budgeting and tenant education."
Capetillo, who has been with CCCF in different capacities for the past 20 years said, "It is so rewarding to see people come into this program and see how their life changes. I've walked this journey with Carmelita. I was there when she was at the shelter. I helped get her bags and brought her to her apartment. I've been there every step of the way."
Looking back over her ordeal, Carmelita said, "I thought that going to a shelter was the worst thing that had ever happened to me, but it turned out to be the best. Without it, I would have never met Anita and me and my son would still be on the streets."
Any family inquiring about rapid rehousing is encouraged to call 211 and speak to someone from Coordinated Entry System (CES). Catholic Charities accesses CES to track and monitor the homeless families entering the system.