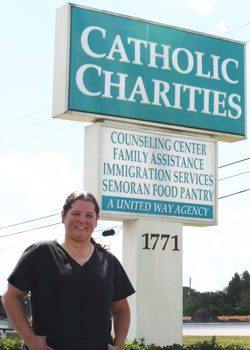 "I got on my knees and thanked God'
Earlier this year Eliza Lugo (pictured left) suffered a stroke and was placed on unpaid medical leave as she recovered. With the sudden stop in income and no savings to fall back on, Lugo and her sixteen year old daughter were struggling and losing hope.
"I was going through depression" Lugo remembers. "I was getting sicker, I couldn't eat, I couldn't sleep, and it was affecting my daughter in school. There was a domino effect."
Parishioners from Holy Family in Orlando referred Lugo to the Catholic Charities office on Semoran Boulevard. The case manager there gave her food and developed a plan to help her through the financial crisis.
"When they told me the good news, that they could help me with rent and electric, I just started crying. It was such a blessing" Lugo recalled. "I got on my knees and thanked God. I asked for help and he heard."
Catholic Charities of Central Florida's Emergency Family Assistance program serves people like Lugo who find themselves in difficult situations and in need of a helping hand. People receive food assistance, help with rent and utilities, and case management to help them make long term changes to improve their lives.
Lugo's story is not unique. A recent report from the Corporation for Enterprise Development showed that over 50 percent of Floridians are one emergency away from a financial crisis. With job loss, sudden illness, divorce, or natural disasters families may find themselves unable to put food on the table, keep the lights on, or even stay in their homes.
"In Central Florida, there is a great need among our neighbors" says Joseph Buranosky, executive director of Catholic Charities of Central Florida. "We as Catholics are blessed because we realize that all we have comes from God, and we show gratitude to God and love to our neighbors by sharing our blessings when the need arises."
On the weekend of November 2 and 3, Catholics in the Diocese of Orlando will have the opportunity to share their blessings by participating in the annual parish collection for Catholic Charities of Central Florida. One hundred percent of the money raised will serve the poor and vulnerable and provide a compassionate response to people in need.
"Throughout the New Testament, Jesus challenges us to love our neighbor beyond all telling, to love our neighbor as He loved us to His death on the Cross," said Bishop John Noonan urging the faithful to respond to our brothers and sisters seeking assistance. "The Catholic Charities of Central Florida Collection provides the emergency funds and case management needed to care for people in our community. Your gift will allow God's people to overcome the hardship and challenges they face and to be served with respect and dignity," Bishop Noonan added.
In 2012, through the generosity of parishioners in the Diocese of Orlando, more than $300,000 was raised in the annual collection. The collection helped Catholic Charities to serve over 7,000 people with emergency funds and distribute over 500,000 pounds of food to people in need.
Nearly four months after receiving assistance, Lugo is back at work and says she does not know what she would have done without the help from Catholic Charities. With firsthand experience of how an emergency can dramatically impact all aspects of a family's life, Lugo plans to participate in this year's collection at her parish.
"Every little penny helps" Lugo says. "It can change a life completely."