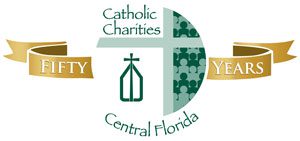 Support Mother's in Need this Mother's Day
We honor our mothers during the month of May, and in a special way, Catholic Charities honors the mothers we serve each day who make tremendous sacrifices for the good of their families. Consider making a financial gift to one of the following programs supporting mothers and strengthening families:
Shepherd's House: provides housing and teaches self-sufficiency skills to homeless single mothers in Orlando
Family Empowerment Program: teaches self-sufficiency skills through case management, mentoring, and financial literacy classes in Polk County
Brevard Interfaith Coalition: encourages and strengthens the family as the fundamental unit of society in Brevard County
Emergency Financial Assistance: provides financial and food assistance to families in crisis
Gifts may also be made in honor of or in memory of a loved one. Visit Catholic Charities of Central Florida to learn more.
Catholic Charities of Central Florida Volunteer Opportunity
Catholic Charities in Brevard County is looking for dedicated volunteers for the Cocoa and Melbourne offices to offer clerical support and food pantry help. Contact Linda at 321-338-2986 (Cocoa office) or Daphne at 321-636-6144 x 0 (Melbourne office) for more information.
New Twitter Handle for CCUSA Social Policy Dept.
Catholic Charities USA's Social Policy department is now on Twitter at @EndPoverty. Follow the Social Policy team to keep informed on the latest policy news, updates on our data and analysis work, and our ongoing collaborations with other organizations dedicated to ending poverty in America. Follow @CCharitiesUSA, @EndPoverty, and @CCCFlorida to stay on top of the latest news, and share with your friends!
Survey Shows Strong Catholic Support for Immigration Reform
A large majority of Catholics support immigration reform legislation that provides a path to citizenship for the 11 million undocumented immigrants in the country, according to a recent survey sponsored by the Office of Migration Policy and Public Affairs of the U.S. Conference of Catholic Bishops (USCCB). Overall, 77 percent of Catholic voters support a proposal that allows earned citizenship through meeting requirements like registration, paying a fine, paying taxes and taking English classes, the survey shows. More information can be found at on the Justice for Immigrants website. Catholic Charities USA supports immigration policies that strengthen families, promote the security of our nation, and provide a path to citizenship for undocumented workers and their families. To learn more, please see this statement recently released by Father Larry Snyder.