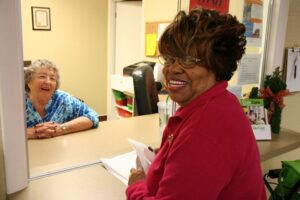 For more than three decades the Lakeland Activity Center for Seniors, a program of Catholic Charities of Central Florida, has provided a second home for the area's seniors; giving them a place to participate in activities, meals, health screenings, and most importantly, to socialize with other seniors. Now the organization is introducing "Mobile Services for Seniors" to serve more seniors through satellite locations.
The first satellite site, operating out of the Frostproof Care Center, began welcoming seniors in the fall of 2016. The second site opened at the Bartow Meetinghouse on Feb. 6. A third and fourth site are scheduled to open their doors in the coming weeks: at the Polk City Activity Center on Feb. 22 and the Dundee Community Center on March 3. Catholic Charities is looking to expand to other locations as well and have recently hired a new mobile services coordinator. The goal is to help seniors avoid isolation which is dangerous for their health.
"A lack of socialization or being isolated is more detrimental to one's health than smoking 15 cigarettes a day or being obese," explains Barbara Cage, program manager. "Harvard School of Public Health studies have found that seniors who are less social are more likely to suffer from memory loss and that socializing is as beneficial for their health as exercise. Many of the seniors we serve are widowed, separated/divorced or single – meaning that most live alone, which greatly impacts the factors of isolation."
"Mobile Services for Seniors" is funded by a new Community Development Block Grant from Polk County. The program promotes health and wellness through nutrition, socialization, activities and education. They provide opportunities for seniors 55+ to meet other seniors living nearby, become more informed on health issues, and learn about resources available to seniors in the area. Programming includes: exercise classes, card games, arts and crafts, educational presentations, computer assistance, and a free lunch.
Services at the Frostproof Care Center are offered every Friday from 10 a.m. – 2 p.m.
Services at the Bartow Meetinghouse are offered every Monday from 10 a.m. – 2 p.m.
Services at the Polk City Activity Center will be offered every Wednesday from 10 a.m. – 2 p.m.
Services at the Dundee Community Center will be offered every Thursday from 10 a.m. – 2 p.m.