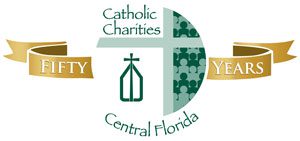 Cleaning Supply Drive for Refugee Families
Basic cleaning supplies are needed by newly arrived refugees who are being assisted by Catholic Charities of Central Florida's Refugee Resettlement Program. These families are currently in need of cleaning items including:
Buckets
Mops
Brooms
Dustpans
Sponges
Detergent and Soap
If you are able to hold drive at your parish, school, or ministry, or would like to drop off donations, please contact Lauren Mynatt at lauren.mynatt@cflcc.org or 888-658-2828 x 2122.
Catholic Charities Prayer Resources
Catholic Charities USA shares "Favorite Sources for Prayer and Spiritual Growth from Parish Social Ministers to assist in your daily prayer life and as you plan liturgies. Commit to praying for the mission of Catholic Charities and submit your hours to the 50,000 Hours of Service Challenge.
Fraudulent Email Alert
It has come to CCUSA's attention that fraudulent Spanish-language emails are circulating online that misappropriate the name of Catholic Charities USA (CCUSA) by promising recipients an interest-free loan. CCUSA is in no way associated with this phishing scheme and we recommend that you do not engage with this email and do not click on any links within the email itself. CCUSA's name and trademark are widely known as a sign of goodwill around the world.
Please contact us with any questions.