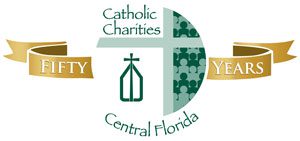 Hope, Celebrations, and Service Expansion:
Mothers Find Hope at Catholic Charities of Central Florida
Catholic Charities' programs support mothers and strengthen families. In our May Newsletter, read the story of Isabel Gomez, a mother who found new hope after arriving at Shepherd's House.
Catholic Charities Celebrates World Refugee Day
On June 22, 2013 from 10 am – 2pm, Catholic Charities of Central Florida invites the community to celebrate World Refugee Day. The free event at St. Margaret Mary Catholic Church in Winter Park will unite the many diverse cultures of Central Florida with cultural performances, arts and crafts, music, calligraphy demonstrations, world cuisine, traditional dances, face painting, and country exhibits. Visit our webpage to learn more.
Catholic Charities Expands Services in Northwest Volusia County
Catholic Charities of Central Florida is making it easier for people in northwest Volusia County to receive the help they need. With funding from Volusia County and in partnership with the Farmworker Association, Catholic Charities will provide case management and emergency financial services to the city of Pierson and surrounding areas, a community comprised largely of migrant workers. Maria Prokop, a parishioner of St. Peter Catholic Church in Deland and volunteer with Catholic Charities, will coordinate the expanded outreach effort out of the Farmworker Association building in Pierson. To help this community, contact 386-255-6521.
Protecting Immigrants' Rights: The Anti-Discrimination Provision of the Immigration and Nationality Act
The U.S. Department of Justice, Civil Rights Division has an office dedicated to ensuring that employers are not discriminating against work-authorized individuals based on their national origin or immigration status. It is unlawful to fire or refuse to hire certain workers because of where they are from or because they are not U.S. citizens. The law also protects workers where employers discriminate against them by asking for too many work-authorization documents or by rejecting valid documents. Learn more at: http://www.justice.gov/crt/about/osc/