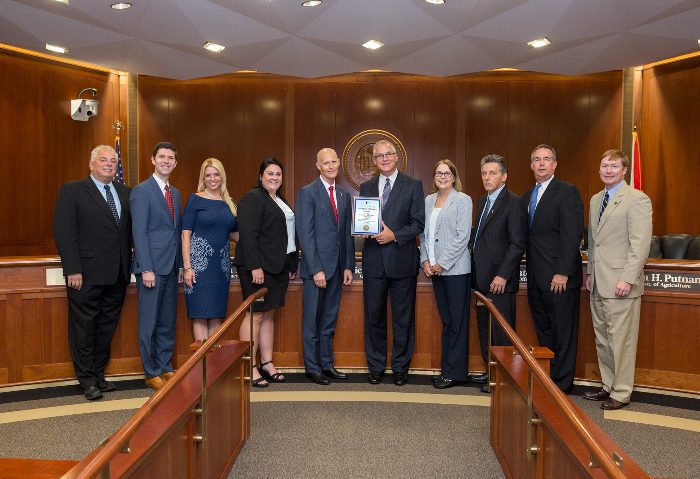 By Christine Young
TALLAHASSEE/ On August 2, Volunteer Florida and Governor Rick Scott presented Catholic Charities of Florida with the Champion of Service Award at the Florida Cabinet Meeting in Tallahassee for the organization's extraordinary response following the shooting at Pulse nightclub in Orlando on June 12.
They were one of only three organizations recognized for their service to the victims of the tragedy and their families.
Volunteer Florida CEO Chester Spellman said, "Catholic Charities of Florida, the American Red Cross, and Hands On Orlando have engaged volunteers in many different ways to support the Orlando community, from serving at the Family Assistance Center to supporting first responders. All three organizations have worked incredibly hard to serve the individuals and families who were impacted by the Orlando terror attack and we are grateful for their service."
The Champion of Service Award, established in 2013, is the only statewide volunteer recognition award given to volunteers and organizations that go above and beyond in service to their community.
"We are blessed to have the opportunity to help those who have been most directly impacted by this tragedy and we will continue to be available to assist those in need in the coming days and months.  As a member of Catholic Charities of Florida, it is humbling to see how all our sister agencies have come together to serve and we are humbled by this recognition from Governor Scott and the Cabinet," said Gary Tester, executive director, Catholic Charities of Central Florida. Tester was in Tallahassee to accept the award along with Heather Knoop, Family Stability Program Manager at Catholic Charities of Central Florida.
Just hours after the shooting at Pulse, six bilingual staffers from Catholic Charities arrived at the Hampton Inn in downtown Orlando, a meeting place for family and friends of the victims. They offered comfort and consolation to the families and helped translate for Spanish speakers.
Catholic Charities continued its support through Immigration Services to help families of victims who were out of the country to arrive in the U.S. for funerals. In addition, Catholic Charities Family Stability Program (FSP) began providing funds to help victims pay for living expenses and other bills they could not pay. FSP also operated a temporary assistance center at St. John Vianney Parish in Orlando, in partnership with the parish and VITAS Healthcare®, to provide case management and supportive services for victims and family members.
Catholic Charities continues to provide supportive services to those impacted by the Pulse shooting at its main office located at 1819 N. Semoran Blvd., Orlando. Victims and family members are urged to call 386-341-3740 to request financial assistance. Bilingual case managers are available to assist.
Catholic Charities established a fund with $20,000 to help the victims and are also accepting donations to help meet the needs. To make a donation, visit: www.cflcc.org/donate.