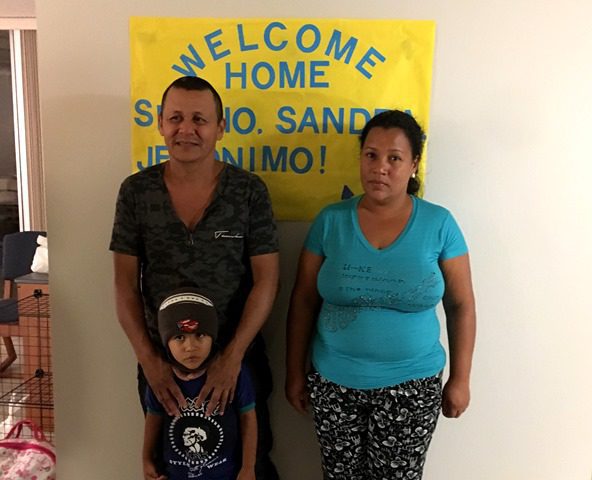 By GLENDA MEEKINS
In light of the global refugee crisis, a group of faculty and staff from Rollins College has been working with Catholic Charities of Central Florida to provide housing for a refugee family. After a year of hard work, assuring that the college could address the needs of housing, food, clothing, language education, transportation and employment, Rollins has recently welcomed its first family from Medellin, Columbia.
The action is in line with Rollins College's mission of educating students to become global citizens and responsible leaders. "In response to continuing news coverage of global refugee crises, a group of passionate Rollins community members had become interested in exploring the possibility of providing transitional housing for a family fleeing from violence in their country," said president Grant Cornwall.
The group proposed that Rollins had all the requisites a refugee would need to make a new start. Working together as a committee, they consulted Catholic Charities, the U.S. Department of State's authorized non-governmental organization (NGO) in charge of refugee resettlement, and developed the Rollins Refugee in Residence pilot program, housed in the Center for Leadership and Community Engagement.
Carolina Toro, refugee resettlement coordinator at Catholic Charities said, "Because the number of refugees accepted throughout the United States has increased by 10,000, we are at 110 percent capacity. So this has been a blessing to us because we are feeling the impact. It was a great relief." She added, "Rollins has prepared a beautiful apartment for the family and has already scheduled English classes and tutors."
The hope is to house one new family every semester. Rollins will house the families for 90 days and then they will be transitioned by Catholic Charities into permanent housing.
"I enthusiastically support this plan, and I hope that we can all strive to assure its success," said Cornwall. "Being a host for a refugee family offers an exceptional way to live our mission and exercise our roles as global citizens and responsible leaders."
Toro agreed saying, "Students are able to see the life refugees have had in the past and our clients will have the capacity to study and have a better future."
Catholic Charities of Central Florida Refugee Resettlement Program has housed 194 individuals, over 50 families, this year. Most of the refugees are coming from Africa, Colombia and Syria.