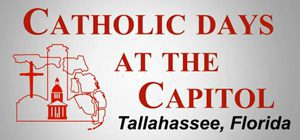 2013 Catholic Days at the Capitol is just around the corner! Register today and join fellow Catholics in Tallahassee on March 19-20 New video of highlights from CDAC 2012.
Help to ensure Catholic voices are heard by lawmakers on matters of human life and dignity Join Catholic Days at the Capitol (CDAC) participants as they gather in our state's capital city on March 19-20, 2013 to attend a legislative briefing and meet with lawmakers. Participants learn and advocate the Church's position on issues concerning life and death, social concerns, education and health care.
A luncheon for participants, the bishops of Florida and state legislators is included in the activities. During the luncheon, Rep. Steve Precourt (Orlando) and Senator Anitere Flores (Miami) will be presented with Defensor Dignitatis awards; Rep. Richard Corcoran (Lutz) will receive the Defensor Parentum award.
Register today: Diocesan Coordinator Contact Information and Registration Forms – **Pre-registration required by deadline on registration form**
CDAC participants are also invited to the annual Red Mass of the Holy Spirit con-celebrated by the bishops of Florida. State officials, lawmakers, judges, members of the legal profession and the community participate in the Mass and pray for those working in the executive, legislative and judicial branches of government. This year's homilist is Bishop Gregory L. Parkes, Diocese of Pensacola-Tallahassee. Readers at the Mass will be Senator David Simmons (Altamonte Springs) and Representative Jeanette M. Nuñez (Miami).
Never been to Catholic Days at the Capitol? See what it's all about by watching a short video of Catholic Days at the Capitol highlights.
Click the video above to see Catholic Days participants in action during CDAC 2012.