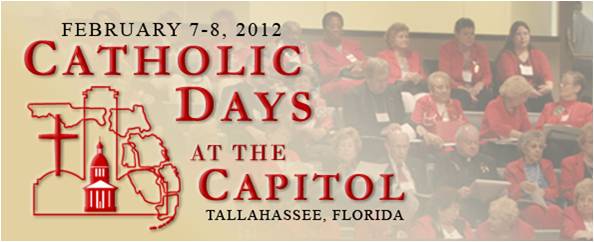 Join Catholics from across Florida as they gather in Tallahassee for Catholic Days at the Capitol, February 7-8, 2012.
This annual event provides an opportunity to answer our faith's call to participate in the public square and gives Catholics a voice in shaping our state laws. The program includes a legislative briefing on issues affecting human life and dignity followed by scheduled meetings with elected officials. A luncheon is held for Catholic Days participants, Florida's bishops and legislators. Two days of activities culminate with the Red Mass of the Holy Spirit celebrated by the bishops of Florida to pray for those working in the legislative, judicial and executive branches of government.
Registration forms and contact information are available on the web site of the Florida Catholic Conference at http://www.flacathconf.org/CDAC/index.php. Pre-Registration is required. For more information, contact the Office of Advocacy and Justice, (407)246-4819.