Allan E. Keen, Chairman of the Board of Directors of the Catholic Foundation of Central Florida, Inc. is pleased to announce that after an extensive nationwide search, James Edwards is named as the new President, effective August 22, 2011. Mr. Edwards' appointment follows the departure of Founding President Marilyn Blanchette.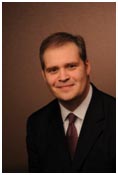 Mr. Edwards brings to the Catholic Foundation more than 17 years of leadership experience in Catholic philanthropy, including a career with the Archdiocese of Baltimore that spanned more than 13 years. Since 2004 he has served as Director for the Catholic Community Foundation of the Archdiocese of Baltimore, where he managed all facets of the Foundation's overall growth and development.
"Jim comes to us from a Diocese that is known for its visionary approach to stewardship," noted Allan E. Keen. "He has been with the Catholic Community Foundation of the Archdiocese of Baltimore since its inception, and in that time the Foundation's assets have grown from less than $5 million to more than $30 million. Under his leadership, the number of endowment funds grew from 30 to 340. That is a remarkable legacy for the people and parishes of Baltimore."
The appointment follows an exhaustive nationwide search managed by executive search firm Witt/Kiefer and commissioned by the Board of Directors for the Catholic Foundation of Central Florida.
"Our faith is centered on Christ's great act of redemptive love, and everything we do as a Foundation is a response to that gift," observed Keen. "In our search for a new President, we were looking for a leader with experience and determination but with enough humility to realize that it is Christ who is the driving force behind success. We believe that we have found that leader in Jim, and we are grateful that he has chosen to share his gifts with us."
Established in 2008, The Catholic Foundation of Central Florida, Inc. is an independent non-profit foundation committed to raising, managing and distributing charitable funds that sustain and grow the local Catholic community. Fully endorsed by the Diocese of Orlando and its Bishop, the Catholic Foundation works extensively with Catholic parishes, schools and ministries to help secure the resources they need to further their long-range goals and expand their witness.
In his role as President, Mr. Edwards will take the reins as the Alive in Christ campaign concludes. Alive in Christ is a comprehensive diocesan-wide capital and endowment campaign involving 92 parishes and missions across nine counties. Launched in the fall of 2007 and managed by the Catholic Foundation, Alive in Christ has raised more than $147 million in cash and pledges to date, and more than one-third of the parishes in the Diocese of Orlando are actively moving forward with projects funded through campaign efforts.
With the Alive in Christ Campaign nearing a successful completion, Mr. Edwards will also work closely with the Board of Directors to establish a vision for the Foundation's full menu of core services, including planned giving, endowment management, and Our Catholic Appeal, an annual effort to support the programs and ministries of the Diocese of Orlando.
"Here at the Catholic Foundation of Central Florida, we view stewardship as a ministry with unlimited potential for serving God's people. We chose 'fulfilling great promise,' as our Foundation slogan because we are serious about that message," said Vice President for Advancement, Meghan Post, who has been serving as interim President. "We are pleased and excited that Jim sees in our Foundation and our local Church the spark of many great promises to be fulfilled."
Mr. Edwards holds a Master of Arts degree from Indiana University and a Bachelor of Science degree in Education from Indiana University of Pennsylvania. A dedicated Catholic, he along with his wife of twenty years and their three daughters are former members of Sacred Heart Catholic Church in Glyndon, Maryland.
"I am grateful to Bishop Noonan, Allan Keen and the Board of Directors of the Catholic Foundation of Central Florida for their confidence in me, remarked Edwards. "I look forward to serving the Church in the Diocese of Orlando. May God bless our efforts to build his Kingdom here on earth through the various ministries of the Church."