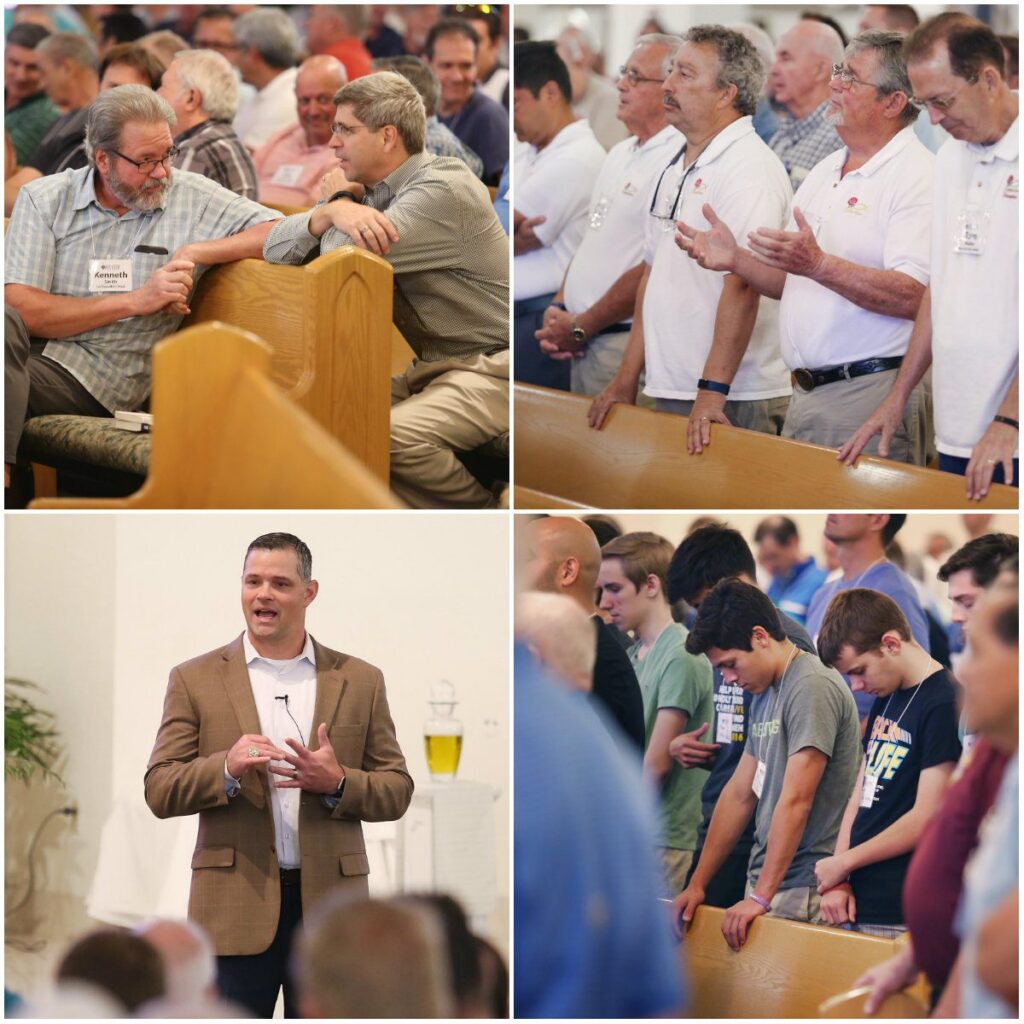 ORLANDO | On June 3 over 400 men from teenagers to retirees gathered at Holy Family Parish in Orlando for the diocesan men's conference, Rise Up. Participants were inspired with talks from men who live out their Catholic faith daily whether in the world of professional sports like Joe Lombardi, coach for the New Orleans Saints; in business as with Jeff Noel, a top leader at Disney; or in the Church as with Father Jeremiah Payne, a convert to Catholicism and parochial administrator at St. Joseph Parish in Palm Bay.
"I am pumped after this year's Rise Up conference," said Willy Alvarado, a member of the Knights of Columbus from Holy Redeemer Parish in Kissimmee. "I took away three key points from the speakers.  The first is that we need to devote our time and energy according to our top priorities: God, faith, and family. The second is that we men need to take control of our lives. Either we are committed to living according to our Catholic faith or the culture and the devil will control our lives. And the last thing is that men need other men because 'Iron sharpens iron' (Ps 27:17).  We need to go back to our parishes and get involved in an existing ministry or start a small men's group of our own. I am now recommitted to growing our men's ministries at our parish."
In addition to the speakers, the men also celebrated Mass together and had the opportunity to participate in the Sacrament of Reconciliation.
Rick Grinstead, pastoral associate and youth minister at St. Peter Parish in Deland brought a group of teens to the conference. Grinstead said after spending the day with men who take their faith seriously the teens felt proud to be considered part of that community.
"We felt it was vital for them to hear the message of what it means to be a man of faith," said Grinstead. "All too often we think of the youth as the future of our Church instead of recognizing they are just as much a part of the Church now as any of us. They struggle with what to do with their lives and need advice not just from their parents, but from men who have 'been there, done that.' We also saw the need to prepare them instead of repair them. What I mean by that is why wouldn't we give them the tools to be better husbands, workers, church participants before the problems arise rather than after?
"Great discussion followed in the hour long trip back home and continues to be an excellent point of conversation now. As one of my students said, 'I love being a Catholic man' and that's exactly the point of it all."