By Laura Dodson, Florida Catholic Correspondent – November 2017
"I always knew helping women and children would be my work – people who need someone to fight for them," said Lisa Haba, Assistant State Attorney. She won the Florida Attorney General's Prosecutor of the Year Award during the 2017 Human Trafficking Summit in Orlando October 2.
Florida's Human Trafficking Summit brings together representatives from multiple disciplines – law enforcement, healthcare, education, legislation and more. All of them are working toward zero tolerance of human trafficking. According to the Polaris Project, a non-profit organization working to assist victims and prevent human trafficking, Florida ranked third for calls to the National Human Trafficking hotline in 2016.
"I have worked in the State Attorney's Office for seven years primarily on sex abuse," Haba said. "It is easy to have an angry mentality about the perpetrators of crimes – especially if they've hurt a child or are perpetuating human trafficking, but even they are a child of God and I pray for them that they will find their way back to the Lord."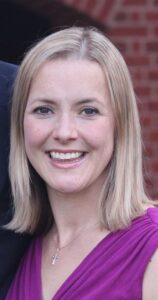 It was a priest's homily many years ago, that Haba credits with forming her perspective. "Everything you do – no matter how miniscule – you should offer to God and give to the best of your ability,'" she recalled. "Before I enter the courtroom for every trial, I ask God that justice be served and I leave the trial and the verdict to be God's."
Originally from Annapolis, Maryland, Haba interned during two summers of high school at the United States Conference of Catholic Bishops in Washington, D.C. under Dr. Kathleen McChesney who was the Executive Director of the Office of Child and Youth Protection.
"Lisa showed great initiative by convincing me of the value of establishing an intern position in my office dedicated to the protection of young people and vulnerable persons in Catholic ministries and that she should be the intern to fill the position," said Dr. McChesney. "It was always clear that Lisa had exceptional talents and it is no surprise that she has been a successful prosecutor."
Haba is passionate about the work accomplished by the church. "I know the steps the Catholic Church has taken are above any other organization," she said. "I have the utmost confidence that our church leadership is doing everything in our power to keep our society and our church safe."
"Lisa Haba is right on target," said Deacon David Gray, Secretary of Leadership and Parish Life for the Diocese of Orlando. "Human trafficking is complicated. The only way to really address the issue is from all sides. Her passion for the victims and work in prosecuting those who are involved in perpetrating this crime is a means of breaking the cycle. For the traffickers, this can be an intervention and opportunity for transformation. The system provides this opportunity, but the gift of the Spirit through prayer and accompaniment provides the means. We keep all – the victim, trafficker and those who feed the demand – in prayer."
Haba graduated in 2009 from Ave Maria School of Law in Ann Arbor, Michigan. She met her husband, Adam, there. He is also an attorney. They married in 2011 with plans for a big family — and already have four children under the age of six.
"I'm hoping to raise good Catholic children and so I must lead by example," Haba said. "With work and my family responsibilities, I don't have a lot of time to volunteer, but I do have computer and graphic design skills and once the children are in bed, I enjoy making fliers and event programs for my parish Council of Catholic Women."
"The National Council of Catholic Women has been on the forefront of education and advocacy regarding human trafficking for many years," said Mary Matheus, President Orlando Diocese Council of Catholic Women. "We are so proud of Lisa's work, her compassion – this award is well-deserved."
Haba will join her husband in private practice in January to further assist victims of human trafficking. "I believe I'm making the world a safer place for myself and my children," she concluded. "I know in my heart I am doing God's work and God will provide."