Rashawn Scott, number 87 wide receiver for the Miami Dolphins, started playing football on a Pop Warner team when he was eight years old. On January 26, just 3 days shy of his 26th birthday, he was inducted into the Melbourne Central Catholic High School (MCC) Athletic Hall of Fame for his outstanding achievements in athletics and character.
"I never felt like this in my own gym," said Scott, 2011 graduate of MCC. "I come back to school a lot and even though I was comfortable in the building, I was uncomfortable because something great was happening that was very important. I was very, very proud and excited."
Since 1968, the MCC Champions Club has recognized MCC alumni – individuals and winning athletic teams who have achieved excellence both on and off the playing field and are persons of integrity and character consistent with the educational philosophy of the school and Catholic community.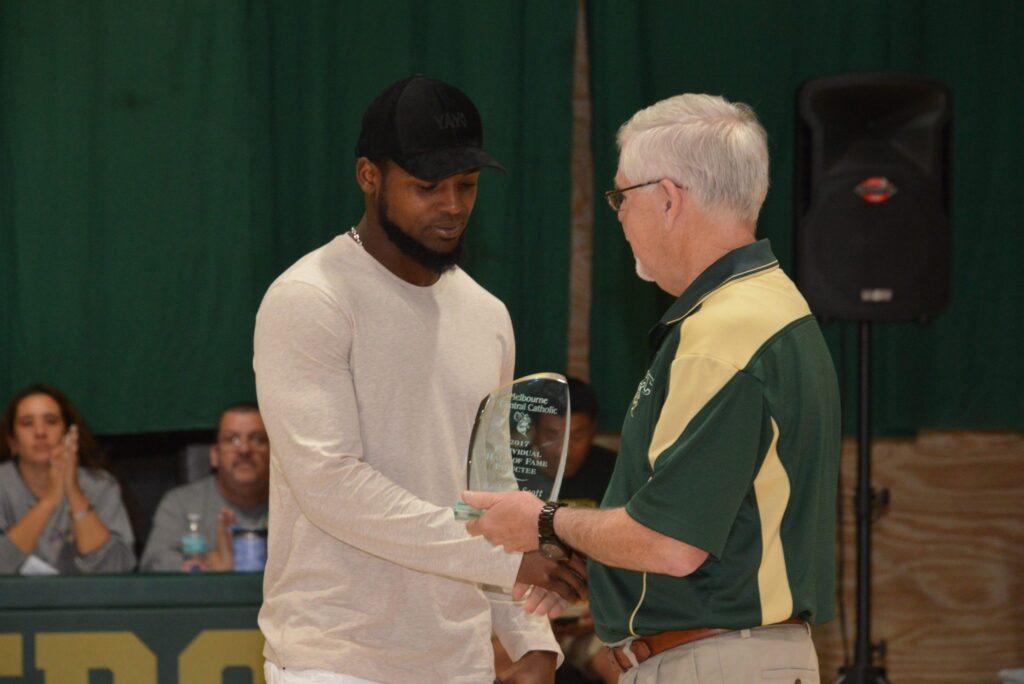 "Rashawn was a hardworking, quality young person who used the gifts God gave him to the best of his ability," said Michael Burke, MCC President, who presented the award at the half-time celebration during the varsity boys' basketball game. "This is an annual event where we bring alumni into our Athletic Hall of Fame. Rashawn is a champion, a Hustler for life!"
Scott was struggling academically when Michael Erdman coached his Pop Warner team. Erdman's wife, Freddie, had degreed in exceptional education and worked with Scott to bring him up to grade level. With the blessings of Scott's mother and the help of the Diocese of Orlando, the Erdmans were able to welcome Scott into their family as his guardians. He graduated from Holy Name of Jesus Catholic School in 2007, from Melbourne Central Catholic High School in 2011 and from the University of Miami in 2015 where he was also a star player for the Miami Hurricanes.
"I'm very proud of all seven of my kids," said Michael Erdman. "All my kids are student athletes. They've all excelled in all they're doing and they all support each other. This award is one more example."
"Our adopting Rashawn was one of those meant to be things," shared Freddie Erdman. "Our kids don't belong to us. They're here for us to do our job and then let them go. Rashawn really lives the golden rule."
Scott credits the Erdmans and the entire Catholic community with helping him to become the athlete and person that he is.
"The Erdmans are family," he said. "They're beside me – faithful. We go to Mass. They really uplifted my religion. Sports is what we're all about – they really inspired me by what they do. They have faith in me, so I've got to give it back."
Regarding the support of community, Scott credited his success to being with families who are serious about grades and becoming the best they can be.
"I studied hard, but I had a lot of people around me pushing me to study," Scott said. "The older football players mentored me and now I'm doing the same for my younger brothers. When I got to the University of Miami, they said, 'you must be a leader – you went to Catholic school.' I'm still learning and growing, but I've got a job to do."
Scott excelled in basketball and track as well as football while at MCC and basketball coach Rob Terry was particularly proud to have been a part of his growth and development.
"Rashawn is a very magnetic person," Terry said. "He has the ability to make people around him better and through his faith he not only made himself better, he was also able to touch everyone who interacted with him. He competed every day in practice and pushed everyone to give their best. This is the kind of drive that allowed him to pursue a college career and now a professional one."
Asked for his advice to others, Scott shared, "Work hard and love everything you do, because if you love it you'll give it your best. Attitude is the biggest thing – and faith. Don't let go of Jesus."
By Laura Dodson, Florida Catholic correspondent – February 1, 2018