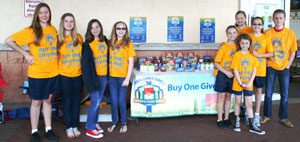 Joey, a first-grade student at Sacred Heart Catholic School in New Smyrna Beach, chose to spend his Saturday collecting food for the hungry instead of attending a concert with his friends.
"I gave him the choice," said Joey's mother, Becky. "I'm so proud of him that he chose to help others. You are never too young to start."
Joey is one of many Catholic school students across Volusia County who made that choice. All six Catholic Schools in Volusia County joined together in a coordinated food drive at six Publix locations in New Smyrna Beach, Port Orange, Daytona Beach, South Daytona, Holy Hill and Ormond Beach. Shoppers were encouraged to "Buy One, Give One" (BOGO), by taking advantage of Publix's BOGO sales on non-perishable items such as canned fruits, vegetables, pasta and macaroni and cheese.
"The community was extremely generous and their donations will truly make a difference," said Dawn Melcher, Marketing Director for Catholic Schools in Brevard and Volusia Counties. "Our Catholic schools collected approximately 2,000 items of food and received over $1,200 in monetary donations."
The donated food items will help meet a critical need by filling food pantry shelves at local parishes and Catholic Charities of Central Florida locations.