ORLANDO | Vera, a second grade student at St. John Vianney Catholic School (SJV), timidly approached the microphone. Adjusting the mic and glancing at the index card in her hand, she quickly found her courage and boldly introduced her class STREAM project, "Living Things," to an audience of her school mates, faculty, and parents. Her talk was part of a special morning event held on May 9, where students in grades 1-8 presented their findings from a year-long, class-specific, interdisciplinary STREAM project.
The presentations were delivered as TED Talks, or as they like to call them at SJV "Mustang Talks", short, concise, and powerful presentations.
STREAM is a comprehensive approach to teaching, curriculum that combines Science, Technology, Religion, Engineering, Art and Math. It embraces the interdisciplinary concept of teaching, already used in our Catholic school classrooms, incorporating a portion of the assigned topic in all classes. This endeavor is part of SJV's movement towards STREAM certification.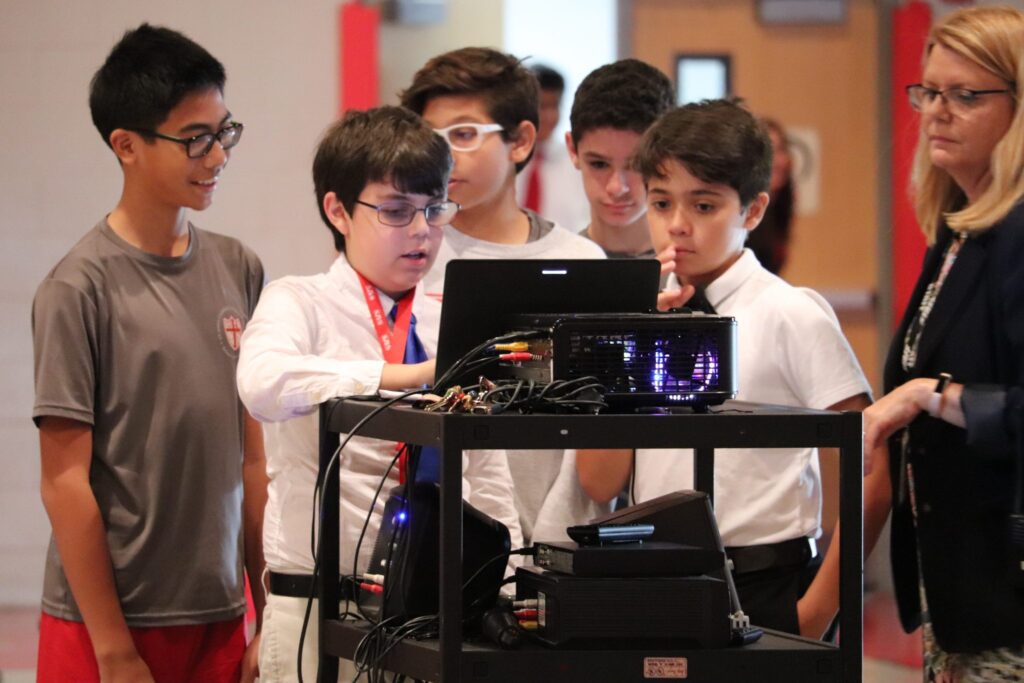 "I wanted to bring STREAM to SJV because of our Franciscan spirituality," said Principal Cathy Marshall. "It enables us to bring our faith in to all aspects of life! STREAM is all about nurturing, observing and noticing.  Isn't that what we want as a people of God? Open our eyes, Lord."
During the 2017-2018 school year, STREAM was offered as a special. The students loved it so much, the administration decided to make it part of the everyday curriculum.  So, throughout this academic year, students observed, questioned, hypothesized, experimented, studied and ultimately made conclusions about a scientific topic, selected specifically for their grade level.
First graders explored "Garden Soil;" second grade, "Living Things;" third grade, "Hydroponics;" fourth grade, "Technology Time;" fifth grade, "Podcasts;" and middle school, "Water."
"We are so proud of our students and teachers," said Beth Labreche, assistant principal. "They took a risk to try something they have never done before and the results we amazing. Everyone has a gift to share, and this project allowed our students to shine."
The highlight of the younger grades' presentations was the chance to taste potato chips made from the potatoes the first graders grew, and the opportunity to pet two chickens that started out as eggs in the second grade class.
"I was so surprised to see their joy when their crops grew, chickens hatched, or frogs grew legs. Their amazement with simple developments made it so much fun," said Patty Smukall, a teacher at SJV, who, along with Labreche, spearheaded the project. "I hope our students learned to appreciate the fun of doing an investigation they designed themselves. Children have so many questions, but often don't realize they can devise experiments to discover the answer. Hopefully, they gained confidence in their ability to satisfy their curiosity through hands-on investigations."
Principal Marshall added, "STREAM brings learning to life. It is the best way students can grow and learn as a community. I think if we do not show them how to be a community, it will be difficult for them to live as a community, whether it is in their Church or city."
By Linda Caldwell, special to the Florida Catholic – May 15, 2019