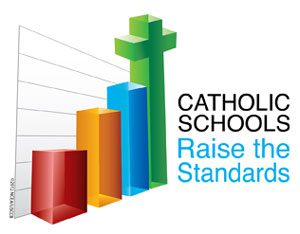 From Jan. 27-Feb. 2, Catholic schools throughout the Diocese of Orlando will join Catholic schools nationwide to celebrate Catholic Schools Week. This year's theme, "Catholic Schools Raise the Standards," highlights the recent launch of a new initiative, the National Standards and Benchmarks for Catholic Elementary and Secondary Schools, to ensure consistent high standards at Catholic schools across the country.
The standards provide guidance on a range of practices that schools should include in their policies, including those related to mission and Catholic identity, governance and leadership, excellence and operational vitality. They were developed through a project led by the Center for Catholic School Effectiveness (CCSE) of Loyola University Chicago, Boston College and the National Catholic Educational Association.
"This is a tremendous opportunity to underscore the long-standing leadership of Catholic schools in maintaining and striving for the highest standards in providing an excellent education steeped in the traditions of the Catholic faith," said Marie Powell, executive director of the Secretariat of Catholic Education of the United State Conference of Catholic Bishops.
Henry Fortier, superintendent of schools, said in terms of academics, diocesan school children repeatedly score in the top percentile of standardized testing and score high on pre-SAT and ACT tests. However, the curriculum does not focus solely on academics. Fortier added that Catholic schools strive to hold students to higher standards by providing them with a solid foundation of spiritual formation – something parents such as Barbara Matthews, of Divine Mercy Parish in Merritt Island, find extremely important.
Matthews' two eldest sons, both now enlisted in the U.S. Navy, attended St. Mary Catholic School in Rockledge. Her oldest son, a lieutenant, also attended Melbourne Central Catholic. Currently, her youngest is a seventh grader at Divine Mercy Academy.
"We owe our children a good education, but more importantly, we owe them a good, Catholic education," she said. "If we want them to achieve the dreams we have for them, we need to give them a solid foundation. A Catholic education is based on knowledge, discipline and faith. A Catholic education prepares them for later in life."