Meet one of our Catholic Volunteers, Patrick Andonie from Metairie, LA, Serving at Bishop Grady Villas in Orlando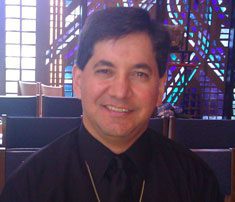 What's the service like?
"I help to take care of adults who are mentally handicapped. There are four main things that I do. I drive them to and from places they need to go, such as work, appointments, Mass, shopping, etc. I make sure they get their medications at the right time. I help them with their programs which include managing their money, oral hygiene, keeping their clothes clean and organized, exercising and eating healthy, etc. And finally, I provide them with loving companionship."
What's the most rewarding thing that has happened recently?
"One night I was bringing some residents to an event that was to last a few hours. One of the residents told me that she really didn't want to go, but she was going anyway because she wanted to spend time with me."
What have you learned about yourself so far?
"I have learned that I have a lot of patience. Dealing with adults who are mentally handicapped can be very challenging and frustrating at times. But I always seem to have a very calm composure when dealing with them. I find that I am always able to display patience and compassion towards them, even when frustrated."
Note: Recruitment is coming to a CLOSE! Round 2 of Applications is almost over!
Do you, or someone you know, want to LIVE OUT YOUR FAITH for a year in full time service? CVIF is recruiting for the 2013-2014 service year starting in July. Start an application online by clicking right here or email Darcey at darcey.cvif@gmail.com.
The group got to tour the new Camillus House facilities in Miami.
SPRING IN MIAMI! CVIF joined up with 3 volunteers from Humility of Mary Volunteer Services for retreat during April 1st-5th. Some themes for this week were: Active Spirituality and Social Justice, and Discernment. There were opportunities for reflection, self discovery, and an entire day of silence! We had a great time!
Retreat Reflection from CV- Charles Saunders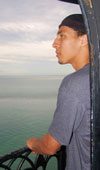 "This Miami retreat was well needed. As one of our guests, Seminarian Blake Britton said, "Silence is not golden, but it is the place where gold is forged." This retreat was silence, not just in the one day of physical silence but silence from the world. This silence from talking, technology and the world was well needed to put the year up to this point in perspective and to forge golden clarity in our lives of discernment and our search for God. Thank you again to Darcey, Valarie and Elaine for preparing a beautiful and heartfelt retreat for us and for adding to our community by inviting our new friends from the Humility of Mary Volunteers. This retreat has forged golden silence in my heart and equipped us better in our search for God in our lives. Thank you all." (pictured right: Charlie Saunders)
CVIF featured in Christian Brothers Services' Newsletter!
Our Insurance Provider, Christian Brothers Services showcased CVIF in one of their in-house newsletters! CBS highlights their clients so that employees can see who it is they are working with. In this newsletter, CBS shares our wonderful foundation story of 30 years ago, and the program we are today. They also focused on the amazing service our volunteers do, and what we have to offer for any potential volunteers. We are grateful for Christian Brothers Services and for all of their hard work! If you are interested in CBS, contact them at https://www.cbservices.org, volunteer@cvif.org, (o) 407.426.7771 (f) 407.426.7774.