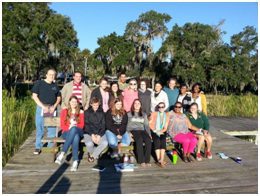 Sixteen volunteers and three staff members from the Catholic Volunteers in Florida program participated in their annual fall retreat October 24-27 at Warren Willis Camp in Fruitland Park.
The retreat was an opportunity for volunteers and staff members to pray, interact, discuss service projects, write letters to family and friends, and participate in the celebration of Mass. Plus, there was time for team building and exercise. Participants challenged themselves on a ropes course that included a zip line and a "Leap of Faith" platform.
The retreat also featured a number of speakers from the Diocese of Orlando who talked about spirituality.
"During our retreats, we focus on core values like community, simple living, social justice, active spirituality, personal growth and vocation discernment," said Valarie Amica, CVIF director of site placements and programs. "It is what this year of service is all about for our volunteers. Doing our retreats, we share ideas on helping volunteers grow closer to the Lord during their service year."