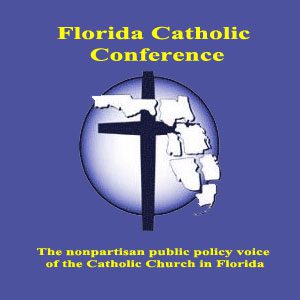 Tallahassee (June 21, 2013) – Somberly awaiting the upcoming execution of Marshall Lee Gore, scheduled for June 24 at 6:00 p.m., the Catholic Bishops of Florida invite the faithful and members of the community to pray for the condemned, his victims, Susan Roark and Robyn Novick, and their families.
The Catholic Church teaches that all human life, given by God, is sacred. This sacredness is not contingent upon one's guilty or innocent behavior. Like his predecessors Benedict XVI and John Paul II, Pope Francis, in a recent message to participants of the Fifth World Congress Against the Death Penalty, reiterated the call to commute capital sentences to a lesser punishment that allows for time and incentives for the reform of the offender. An open letter from the Bishops of Florida urging Governor Scott to commute the sentences of three condemned individuals, including Marshall Gore, can be found here: http://www.flaccb.org/statements/2013/130522OpenLettertoGovernor_PendingExecutions.pdf
Opportunities to pray for those on death row, and for victims of violent crimes and their families, will be offered in several areas of the state.
In the Archdiocese of Miami: A special rosary will be recited following 11:45 a.m. Mass on June 24 at St. Martha Catholic Church, 9221 Biscayne Boulevard, Miami Shores. Contact: Juan Di Prado, (305) 762-1046, jdiprado@theadom.org.
In the Diocese of Orlando: Mass participants will pray for victims of violence and for those scheduled for execution at the June 24 Red Mass celebrated by Bishop John Noonan at 12:10 p.m. at St. James Cathedral, 215 N. Orange Avenue, Orlando. Contact: Teresa Peterson, (407) 246-4811, tpeterson@orlandodiocese.org.
In the Diocese of St. Augustine: Prayer vigils will be held on June 24 at the following locations:
Additional Contact: Office of Communications, Diocese of St. Augustine, (904) 262-3200.
In the Diocese of St. Petersburg: Spirit FM 90.5 WBVM Tampa will be praying on air June 24 beginning at 5:45 pm. Spirit FM is also available on the internet (www.spiritfm905.com). Contact: Sabrina Burton Schultz, (727) 344-1611, sab@dosp.org.
In the Diocese of Pensacola-Tallahassee: A prayer service will be held at St. John the Evangelist Catholic Church, 1008 Fortune Avenue, Panama City on June 24 at noon. Contact: (850) 763-1821, stj.office@knology.net.
In the Diocese of Venice: A prayer vigil will be held in the St. Andrew Parish Chapel, 2628 Del Prado Blvd S., Cape Coral on June 24 at 7:00 p.m., followed by exposition of the Blessed Sacrament until 9:00 p.m. Contact: Alicia Schol, (239) 574-4545, aschol@standrewrcc.org.
In addition, Tallahassee Citizens Against the Death Penalty will sponsor a community prayer vigil scheduled for June 24 at 6:00 p.m. in front of the Governor's Mansion in Tallahassee and an interfaith Service of Remembrance in the Capitol Building Rotunda the day after the execution, June 25 at noon.