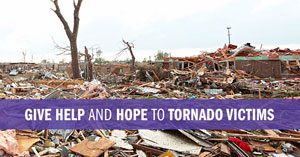 Since the tornadoes struck Oklahoma last month officials estimate that 1,150 structures were destroyed and there has been $2 billion in damage. In addition, 40 people have been injured, two killed and over 300 homes damaged or destroyed.
But after the darkness of the storm, there is always hope. CCUSA's disaster operations team is in Oklahoma and is working directly with the local Catholic Charities agency on response efforts. At last count, local agency staff members have helped over 680 families and more than 1,000 individuals.
And thanks to the generosity of our supporters, we were able to approve an Emergency Disaster Grant for our agency in Oklahoma which will serve as a down payment to help them respond to the dire needs that this tornado has caused.
To all who have offered donations or prayers for those affected by or responding to this tragedy, we can only say thank you. Editor's Note: Thank you to the parishioners of the Diocese of Orlando who participated in a second collection for Tornado Relief.