INDIALANTIC | When Father Scott Circe became pastor of Holy Name of Jesus Parish in Indialantic, in the summer of 2017, the community included a parish, a school, and a childcare facility that ran a half-day program to help busy parents. That spring the school was due for accreditation renewal and recommendations suggested the childcare program come under the school's accreditation. On Monday, January 6, the center opened to the first children with a blessing by Father Scott Circe.
"I am very proud of what we have accomplished through the renovation of our Early Learning Center," said Father Circe. "I hope and pray it will be a great place to support the domestic Church as we form the youngest members of our parish family."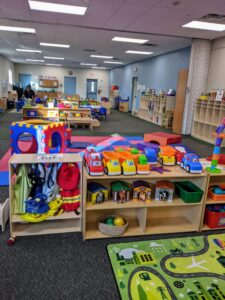 Accreditation under the Florida Catholic Conference (FCC) required closing the building for a full renovation. The entire process took more than a year to complete, but today the Early Learning Center is up to the standards set by the FCC, Department of Children and Family Services, as well as all state laws and requirements for the supervision and care of our youngest population.
Renovations include: new security cameras, new lock systems, new office area and furniture for the reception area, white boards, age appropriate manipulatives, computers, internet access, art, music, an indoor tumble area and more. A fresh coat of paint and updated bathroom areas to include changing tables were also part of the improvements. The center is complete with new LED lighting for energy efficiency and an outside playground.
The program holds 40 students with the potential to expand to more than 60. Designated director for day-to-day management is Kim Parvez, with oversight by the school's principal, Kathleen Falk. Teacher Latrecia Harris is joined by Karen Wissman, aide. Beginning this program has also expanded the school's three-year-old class and preparations for expansion continue.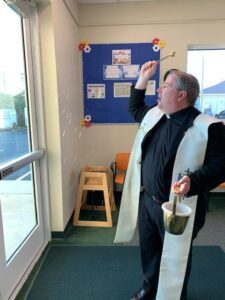 Principal Falk said, ""We are extremely pleased with the positive response from our beachside community. Every day we receive between five and six inquiries for tours. Our enrollment is growing! It has been an overwhelming affirmation to our Catholic faith formation beginning with the youngest children in our community."
Enrollment is currently 12 students between the ages of 14 months and 3 years. Their day begins with music, fine motor development, story time and then onto outside play.
By Glenda Meekins of the Florida Catholic January 15, 2020