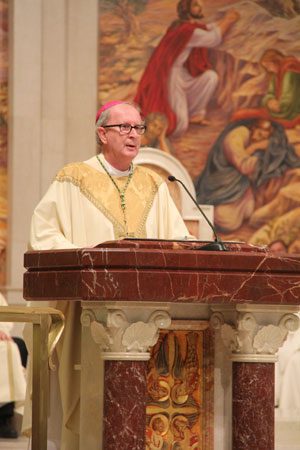 On April 16, Bishop John Noonan, along with close to 200 priests who serve in the Diocese of Orlando, celebrated the blessed ministry of the priesthood during the Church's annual Chrism Mass. Held on the Wednesday of Holy Week, the Chrism Mass is one of the most solemn and significant liturgies of the Church. The Roman Missal cites it as "one of the principal expressions of the fullness of the unity of bishops' priesthood and signifies the close unity of the priests with him."
Click here to view the Chrism Mass.
St. James Cathedral was filled to capacity as hundreds of faithful, including seminarians, permanent deacons, and religious sisters and brothers, packed the cathedral, joined in the celebration, praying for and honoring the men who serve them.
During the Mass, Bishop Noonan blessed three oils — holy chrism oil, the oil of the sick and the oil of catechumens — that will be used for sacramental purposes in parishes and the diocese throughout the year. In addition, the priests renewed their commitment to serve Christ and His Church.
Bishop Noonan reminded the priests of the words of Pope Francis who described the men of God as those who follow the example of Jesus, the Good Shepherd, who was filled with mercy and compassion, was close to the people and the servant of all.
"In Matthew's Gospel (28:19-20), Jesus tells his disciples 'Go, therefore, and make disciples of all nations, baptizing them in the name of the Father, and of the Son, and of the Holy Spirit, teaching them to observe all that I have commanded you. And behold I am with you always, until the end of the age,'" he said. "You have been gifted with the priesthood which challenges you and enables you to do great things in the name of Jesus Christ."
Bishop Noonan took a moment in his homily to recognize those priests who have provided extraordinary ministry to their brothers and sisters in Christ. Priests celebrating their golden and silver anniversaries of the priesthood were also honored.
"Jesus said, 'You are the light of the world,'" Bishop Noonan said. "You, the priests, are the light of the world. These lights are in the hearts of each and every one of you."
Editor's Note
In the Words of Pope Francis…
"The Lord anointed us in Christ with the oil of gladness, and this anointing invites us to accept and appreciate this great gift: the gladness, the joy of being a priest. Priestly joy is a priceless treasure, not only for the priest himself but for the entire faithful people of God: that faithful people from which he is called to be anointed and which he, in turn, is sent to anoint."
—Pope Francis during in his homily at the Chrism Mass in the Diocese of Rome, April 17, 2014