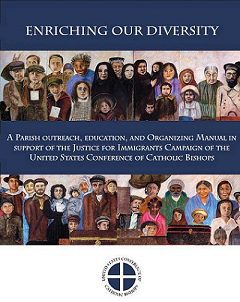 Send an Electronic Postcard to your U.S. Senators and Representatives for Just and Compassionate Immigration Reform.
Justice for Immigrants, the U.S. Conference of Catholic Bishops' campaign for immigration reform, has launched a postcard campaign that calls on the current Congress to enact a fair and comprehensive solution to our nation's broken immigration system.
You can participate in the campaign by sending free, electronic postcards to your U.S. Senators and Representative asking that they pass legislation that provides a legal path to citizenship for undocumented immigrants and for low-skilled laborers to work in the U.S.; keeps immigrant families together; restores just enforcement policies; and addresses the root causes of migration. Please visit www.justiceforimmigrants.org to quickly and easily send your postcards.