ST. CLOUD | Ten years ago, Catholic Charities of Central Florida began a venture to provide uninsured Osceola County residents living at or below 200% of the poverty level with free medical care. A decade later, St. Thomas Aquinas Free Medical Clinic in St. Cloud serves almost 1,000 patients annually. On Feb. 27, the clinic opened its doors to celebrate with the community that continues to make the dream possible.
The clinic was the brainchild of Dr. Romualdo Dator. Dr. Dator, a parishioner of St. Thomas Aquinas Parish in St. Cloud, was one of the few doctors who took Medicaid back then and saw the struggle of many firsthand. In 2004, he approached Father Kent Walker, parochial vicar of the parish, at the time. The two met with now retired Father Fabian Gimeno and began recruiting volunteers. In the meantime, they worked with the Council on Aging to provide a Mobile Medical Clinic. It would be four years before Dr. Dator would see the clinic open.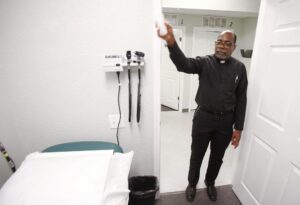 Together with clinic director and friend, Dr. Peter Morrow, and numerous volunteers, the clinic opened in February 2008 and was blessed by then Bishop Thomas Wenski. "When it opened he (Dr. Dator) was so happy about it," recalled his wife, Nora. "He said God heard our prayers. This is why you never give up on praying." Sadly, within a few months Dr. Dator became ill and passed away at age 79. Nora said he would be so pleased to see the clinic's progress and success today.
Every Wednesday from 4 p.m. to 8 p.m., the clinic sees patients for primary and secondary medical care. Volunteer doctors, nurses and assistants meet the needs of individuals, many whom are working poor. According to Senior Director of Health Care Services for Catholic Charities, Jennifer Stephenson-Crouch, "Operating a free clinic for the uninsured is difficult to sustain financially. We are able to offset costs significantly due to the compassionate donation of expertise brought in by healthcare professionals and clerical volunteers. Quite honestly, if it weren't for the volunteers, we would not be able to operate a free clinic for the uninsured."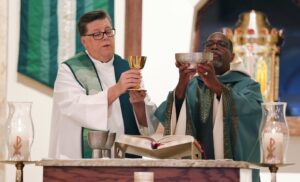 "It's the working of the Holy Spirit because, number one, it's still here 10 years later," says clinic director, Dr. Peter Morrow. "There are a lot of clinics that start and stop, but the perseverance and support that this has gotten has been just wonderful. It is very much what we'd hoped for." Last year nearly 40 healthcare professionals put in almost 700 hours of time and talent. Another 33 volunteers donated nearly 1,300 hours to provide patient intake, eligibility screening, clerical services and general administrative support.
The clinic space is donated by St. Thomas Aquinas Parish, also saving considerable expense from year to year. "The clinic is supported financially, through prayer and through volunteers," said Father Walker. "Most everyone (non-professional volunteers) over there is a parishioner and that is a really big part of it. They take what we talk about at church all the time and put it into practice." Jokingly he refers to their street as "Corporal Mercy Row" because Bishop Grady Villas, a community for the individuals with disabilities, is just one block away and many of the residents are active in the parish.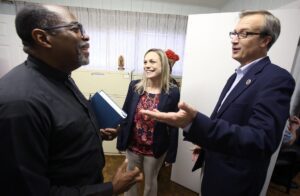 Dr. Morrow admits he underestimated the undertaking, but assured he would do it all over again. "It's been a blessing," he said. Many of the volunteers are medical students and members of the Catholic Medical Student Guild. "It's important to see that you can practice good medicine and uphold the principals of the Catholic faith at the same time," explained Dr. Morrow. "Good medicine is based on good morals and good morals lead to good medicine. When an opportunity like this opens up and you see the people just wanting to volunteer and work in this—that is the joy. It's the whole community stepping up and supporting this."
By Glenda Meekins of the Florida Catholic – February 27, 2019