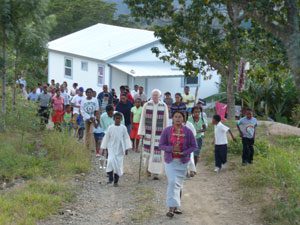 Diocese of Orlando parishes will hold a special collection during weekend Masses Sept. 21 and 22 to benefit our sisters and brothers in Christ who live in the Dominican Republic.
This annual collection supports the majority of the life changing work done through the Diocese of Orlando Mission Office in the rural mountains of our sister diocese in San Juan de la Maguana.
The Mission Office arranges 15 mission trips each year to provide educational, health, and pastoral support to the people in the mountainous regions who do not have access to the modern infrastructure of the major cities nearby.
The theme this year is "Here to Bring Hope" and the theme reflects the many ways that the Diocese of Orlando is bringing hope to this community.
The Mission Office brings hope to over 350 elementary and middle school students attending Mission run schools, which are ranked among the top in the country. Father Fred Ruse, our mission priest, brings the sacraments and faith formation to children and adults. Medical Missions bring hope to parents by assuring them that their children are cared for in all aspects of development. The Mission Office helps to maintain a water filtration project that provides safe drinking water to thousands of families.