Chuck James, a parishioner of St. James Cathedral, was deep in thought and prayer as he carefully lit a tapered candle in memory of his sister Adel Rosner, who had died just the week before. He placed the candle in a sand-filled box near the altar at the St. James Cathedral chapel. The lighting ceremony was part of an interfaith prayer service attended by close to 100 Christians, Jews, Muslims, Buddists and Hindus. The theme of the prayer service was "In Remembrance of Those We Have Lost." (Picture – Members of the Faith Community pray for peace).
"I am so glad I came," he said. "It has helped me in the loss of my sister. Feeling the interaction and sharing of all the faiths that were here was touching and beautiful. It was a truly fulfilling experience."
The prayer service was hosted by Bishop John Noonan and the Diocese of Orlando on Jan. 14. People from various faith traditions throughout the Orlando area gathered together to pray for peace in our world as well peace in our families and in our hearts. The prayer service was also a way to offer public support for Northland Church Pastor Joel Hunter and his wife, Becky, whose son died in December.
"It is incredible to realize who God really is and how much people love him in all forms," Becky said. "We are so grateful for Jesus. God is healing us. Our son is fine and that makes us fine."
In addition to the candle-lighting ceremony, the service featured readings from the Qur'an, the Old Testament, the New Testament, and Guru Granth Sahib as well as songs and a Buddhist chant.
"We are here today as a community of believers to celebrate peace," said Rev. Bryan Fulwider, president of the Interfaith Council of Central Florida. "We are reminded that we are all part of one global human family living in a world that remains broken and suffering. We join in prayer that the universal desire for peace and consolation may be realized."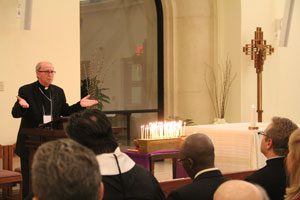 Before concluding the ceremony with prayer, Bishop Noonan reflected on the fruits of the interfaith service – friendship and a coming together to truly know and love one another.
"I have only been here for three years and I can say that all these interfaith leaders have become very close to me and we have become like brothers and sisters," he said.