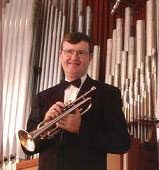 For Bill Picher (pictured), Director of Music and organist at the Shrine, directing the concerts is not about the performers, song selections, or acoustics; it is about glorifying God and evangelizing through music.
"These concerts are an opportunity to bring people to the Shrine who wouldn't normally come" Picher explains. "Once they are here the music and the Holy Spirit work on them. If it wasn't for that we wouldn't bother. We don't want to be just another music venue."
The Basilica choir provides an experience of prayer through music, inspired by the liturgical seasons of the Church. The annual Christmas concert captures the joy of the season and ends with a rousing sing-a-long. In February 2014, a concert will be offered in memory of Bishop Dorsey who passed away earlier this year. The Requiem in D Minor by Mozart will be performed, a fitting tribute for Bishop Dorsey who was himself a musician and admirer of Mozart. The series ends in March with a Lenten concert and mediation; combining piano pieces, inspirational songs, and reflections by nationally known pianist, composer, singer, and speaker Jeanne Cotter.
For thirteen years, from his vantage at the front of the Shrine directing the concerts, Picher has seen how music can affect the people in the pews. Providing that spiritual experience for them is not something he takes lightly.
"We try to be vessels. We pray together before each Mass or concert that we would be transparent. We ask that God work through us and that we not get in the way."
Concert Schedule
Friday, December 6th, 2013 at 7:30p.m – Christmas with the Basilica Choir. Preceding the concert at 5:30p.m. will be an open house at the Basilica Gift Shop, with free refreshments. Tickets are $15.
Friday, February 28, 2014 7:30pm – Concert in Memory of Bishop Norbert M. Dorsey, C.P. (1929-2013) Tickets are $10.
Sunday, March 23, 2014 – 3:00pm – A Lenten Meditation of Piano and Song with Jeanne Cotter. Tickets are $10.
Additional Information:
Children under age 12 attend for free.
Group ticket rates are available by contacting the music office in advance.
The Basilica of the National Shrine of Mary, Queen of the Universe is located at 8300 Vineland Avenue in Orlando, near the Lake Buena Vista of I-4 (exit #68).
Tickets are available at the Basilica Gift Shop, at the door on the day of the concert, or in advance by calling 407-239-6600.