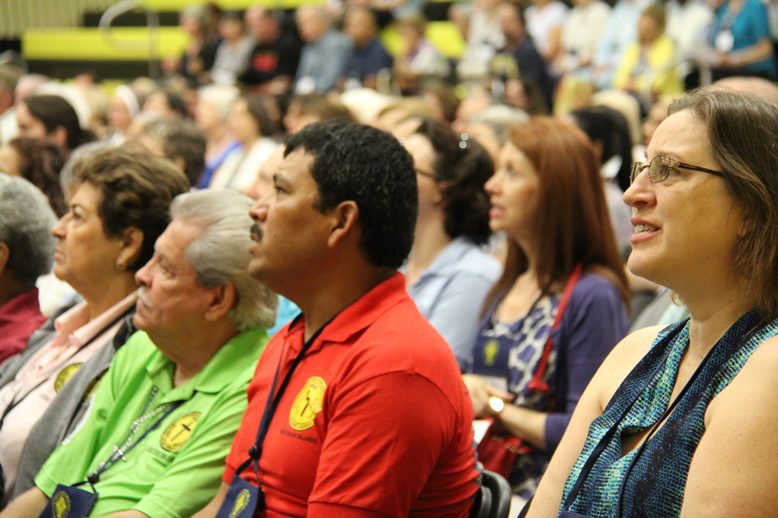 by Glenda Meekins
Theology of the Body, empowerment of the laity, practical ways to work with different cultures in your parish—these are only three of the more than 100 topics covered at the recent Ministry Formation Conference at Bishop Moore High School, entitled Disciples of Mercy on Sept. 17.
Over 800 participants from 86 parishes went to learn how to improve their ministries and become disciples of Christ in the world. The event was hosted by the Secretariat for Laity, Family and Life at the Diocese of Orlando. Participants were also able to visit the exhibits of catechetical publishers, vendors and ministry representatives such as Catholic Charities and Catholic Relief Services.
Bishop John Noonan's opening remarks touched upon our calling to bring God's Good News to all. He reminded all that, "It is not my gospel; it is the Gospel of Jesus. It is not our parish; it is God's."
Keynote speaker Hosffman Ospina, Ph.D , highlighted the ever changing cultural dynamics of modern day parishes and spoke of how mercy is the virtue that unites us. He addressed the audience in both Spanish and English, asking "What is mercy?" He pointed out that, "When we speak of mercy, we go to the heart of our faith."
He said, "If you want to understand who God is, think mercy, think love." He noted that once we understand who God is, we can see how God should be manifested in us. His message was that, "We must recognize ourselves as being women and men who are the gift of mercy to each other."
Soqui Ortiz, youth and young adult coordinator at St. Isaac Jogues Parish in Orlando agreed. She said, "Every year when our team attends the Ministry Formation Day, it connects us with one another in our different walks, with our different gifts, to our one God and we go back to our communities and ministries enriched to continue handing down our faith."
The conference, which also focused on celebrating the multicultural church, provided several workshops in English, Spanish, Creole, and Portuguese, outlining proven methods to effectively respect cultural customs while at the same time, uniting the community.
Liliane Santana, from Our Lady of Fatima Mission in Orlando, attended Father Gaetan Boursiquot's talk  in Creole, "Great Witnesses of Mercy in the Bible and the Modern Age."  She particularly appreciated how Father Gaetan described Jesus at the stoning of the adulteress.
"Jesus bent down," explained Santana. "The bending is not only the mercy and forgiveness, but he is going down to meet us in our sin. He is bending down to meet us where we are and to raise us with him." Her take away was a calling to be a witness of humility and to believe in His mercy so that He can work in and through us."
In seminarian Blake Britton's presentation on Theology of the Body, there was standing room only. He explained St. Pope John Paul II's series of talks and used the story of The Lion King to help illustrate how God elevated us to be His sons and daughters. He reminded us that like Simba, we have forgotten who we are and that our destiny is to be raised up, body and soul, with Christ.
María Jimenez addressed practical ways to work with different cultures in your parish, along with Dr. Tina Shannon and Father Horecio Carlos Anklan. Jimenez explained that ministers and volunteers need to meet people where they are and must take the time to build relationships. Jimenez captured the essence of the conference's theme, emphasizing the need to accept and respect other cultures as there is much to learn from all nationalities and that mercy is at the heart of every true disciple.
"I have to sit down to love them and embrace them so that they feel they belong to us," she said. "It must be from the heart. We must be merciful and compassionate with them. We need to feel the love of God."