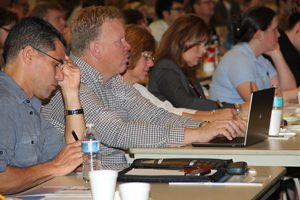 The pope is tweeting now but what about the rest of us? To help representatives of Diocese of Orlando parishes and schools better understand how to use new media for the new evangelization, the Diocese of Orlando Office of Communications and Office of Faith Formation organized a one day "Digital Church Conference" held at St. Mary Magdalen Parish in Altamonte Springs on Dec. 3. More than 120 parish and school leaders gathered to learn more about "New Media for the New Evangelization." The event was designed to not only teach and inspire participants how to express the Church's timeless message in fresh and creative ways, but also, how to meet the communication needs of today's Catholics.
"Never before has the Church had such powerful tools to get her message out," said Brandon Vogt, speaking on the new media revolution of social media and Website presence. "Never before have the ways that we communicate change so rapidly and so profoundly as they do today."
Vogt, a Catholic author, speaker and new media expert; Matthew Warner, CEO of Flocknote and founder of Tweet Catholic; and Josh Simmons, founder and CEO of eCatholic, shared their knowledge and expertise on such topics as how to create a strong Web presence, how to turn that presence into a social network and the seven deadly sins of new media and how to fix them. The event culminated with a live 30-minute media makeover.
"It is critical for us to reach our parents where they are now, and the younger generation uses social media as a source of their information," said Sister Dorothy Sayers, principal at Holy Family School in Orlando. "This conference has not only given us ideas, but also the steps in how to use social media in reaching out to our current and prospective parents. We now have a resource to go to."
Marcel DeMaio, assistant principal at Trinity Catholic High School in Ocala, said one message he took away from the conference was how the internet can be used as a gateway to give inspiration. "As the speakers have said, the secret to success in social networking is to be inspiring. Yet, that is what God calls us all to be. We need to say to teenagers that this is your landscape, your world where you can be inspiring and be fishers of men. You can use social media to spread the good news. Teens are ready for that message. They yearn for that. They want to be relevant to society and their culture."
During the Year of Faith, Pope Benedict XVI calls us to a New Evangelization — a deepening of our faith, a renewed belief in the Gospel message and a strong desire to proclaim God's message. He said New Evangelization is a "re-proposal to the world of the perennial truth of Christ's Gospel." It is an invitation for us to rediscover and renew our relationship with Christ and his Church.