Pope Francis: Consecrated religious are 'gifts that enrich dioceses'
Speaking before an audience of 120 leaders of religious men at the Vatican late last year, Pope Francis said that consecrated religious sisters, brothers and priests are "gifts that enrich dioceses. The involvement of religious communities in dioceses is important." Picture: Left to right – Sister O'Malley, Sister West, and Brother Vu attend Mass at the Basilica of the National Shrine of Mary, Queen of the Universe.
In the Diocese of Orlando, men from 24 religious communities and women from 31 religious communities minister to the people of Central Florida, a service for which Bishop John Noonan is most grateful.
"We are thankful for your total dedication, the gifts of yourself, and the gifts of your lives," he told the consecrated religious who gathered for the celebration of Mass at the Basilica of the National Shrine of Mary, Queen of the Universe on Feb. 1 in observance World Day for Consecrated Life. "We are grateful to you for bringing Christ into our lives."
In the spirit of thanksgiving for their gifts to our diocese, we spoke with a religious priest, sister and brother about consecrated life.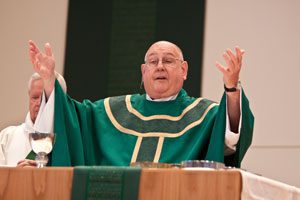 Congregation of the Holy Cross Father Bradley Beaupre, pastor, St. John the Evangelist Catholic Church, Viera. The Congregation of the Holy Cross order was founded in 1874 in France. A small group of brothers and a priest came to the United State and ultimately founded the University of Notre Dame. Today, the charism of the community centers on education, parish ministry, and foreign missions.
Q. What does it mean to be a consecrated religious?
A. When I think about being a consecrated religious, it means that I have chosen to be a member of a religious order or community. As part of my formation to the religious life, I have professed the vows of poverty, chastity, and obedience. Several years later, when I took my final vows, fully understanding that these vows were taken for life, I consecrated my life to God as a professed religious of the Congregation of Holy Cross.
Q. Why did you choose your religious community?
A. I chose them because I had always wanted to teach. I also chose them because of the fact that the priests and brothers lived in community. I was not sure whether I would like that, but very quickly in my formation, when I experienced community life—and the bond that is formed—I knew that this was what I wanted. I found the "brotherhood" very supportive and enriching.
Q. What do you want you people to know about discerning a vocation to the Religious Life.
A. First of all, I had always thought I would be a medical doctor one day. That was my dream, until I came into contact with the Congregation of Holy Cross – through a publication called the "Catholic Boy." It was then that my head was quickly turned toward being a teacher and a priest. I read all the information and met two or three religious of Holy Cross. I was not aware, at the beginning why I changed my mind. It was soon after that I realized that God had called me.
God wanted me to be a priest and to be an educator. There was no better answer to the question, "Why did I choose it?" When a young man or woman feels something drawing them to a religious vocation, that feeling will be evident. Though you may never understand why, as long as you feel called—in some way—ask God to make that call clear – through some sign. Sometimes the call is clear; other times, there is something drawing you in that direction. Never ignore it. Ask God to make the path clearer. And never be afraid to take the leap of faith. If it is for you, you will know it in your heart.
Adrian Dominican Sister Rosemary Finnegan, director of Adult Faith Formation at St. Margaret Mary Catholic Church, Winter Park. Adrian Dominicans are considered O.P., the "Order of the Preachers." This community was founded in the 12th century by St. Dominic to share with others the truth about God whom we contemplate in our hearts. The motto of the Order is "to contemplate and to give to others the fruits of contemplation." Religious preach by their lifestyle, their ministerial activities, and their values.
Q. What does it mean to be a consecrated religious?
A. Consecrated religious are witnesses, prophets, and servants. One of my favorite quotes is from my Dominican sister, Catherine of Siena, who said: "Be who God meant you to be and you will set the world on fire." I see consecrated religious as setting the world on fire by their commitment to God, life in community, prayer life, service to the poor, care for our earthly environment and zeal to participate in the mission of Jesus. Because of our vows, consecrated religious have the freedom to work with others in caring for those 'on the margins' of society, speaking on their behalf, yet at the same time, empowering them to recognize and utilize their God-given gifts and talents.
Q. Why did you choose your community?
A. I was blessed to have the Dominican Sisters of Adrian, Mich. as my teachers in grammar school and the Sinsinawa Dominicans during my high school years. The Dominican spirit they exuded was both joyous and serious and these dedicated women inspired me from the start. My Congregation of women still continues to inspire me by their strong resolve and purposeful ways to live out the gospel message and mission of Jesus with intention, diligence and joy. I will forever be grateful that this vowed religious life has allowed me to meet, serve, worship and work with wonderful people.
Q. What do you want young people to know about discerning a vocation to the religious life?
A. Recently I was actually discussing with my 7th grade religion class about discerning a religious vocation and one of the girls said that she would be comforted in knowing that as she's thinking about it that God will be with her. I certainly affirmed her remark and would add that they should listen to their heart and follow their longing. Then, discuss their questions with a trusted adult. My hope is that they come to see that Religious life is life-giving, diverse, challenging, and a gift to the church and those they'll serve. And I would assure them that they will have a community of people who will support them spiritually, professionally, and emotionally.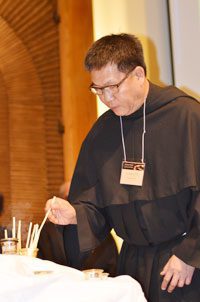 Third Order Regular Franciscan Brother Tello Vu, minister of Hospitality, San Pedro Spiritual Development Center, Winter Park. The charism of Franciscan of T.O.R is to observe the Holy Gospel by living in vows and is based on the desire to persevere in true faith and conversion of life in the spirit of poverty and humility.
Q. What does it mean to be a consecrated religious?
A. The consecrated life as a religious receives its proper character from profession of the evangelical vows of Poverty, Chastity, and Obedience. It is a way of living according to the example and teaching of Jesus Christ, striving for the kingdom of God.
Q. Why did you choose your community?
A. The reasons I chose my community is because of its charism and Franciscan call. As a child, I was always drawn to St. Francis through his conversion and public ministry such as caring for the poor, the sick, and the marginalized, especially the lepers. The reason I chose my community is because its charism.
Q. What do you want young people to know about discerning a vocation to the religious life?
A. One thing I would like people to do in their discernment is to find a spiritual director who is compassionate to them and is willing to help them to find the community which is good for them. Don't forget to pray to God for his guidance.
Editor's Note
Many men and women respond to God's call by dedicating themselves to his service and to the welfare of their sisters and brothers through religious life. A consecrated life is a life given to Christ. The faithful make vows of poverty, chastity and obedience.
The religious generally choose a religious community based on its lifestyle and mission, otherwise known as charism. They share a common vision or mission in serving God and his Church patterned after the life and teaching of the founder of their community. There are scores of religious orders throughout the world — some founded centuries ago by saints while others founded in recent times to address a particular need.
In making their commitment to God and his Church, religious follow three stages of formation – novice, a time for testing; first profession, during which the novice vows before God and the Church to follow the evangelical counsels; and perpetual profession, in which the religious bind him/herself permanently to the service of God and the Church. (Vatican Council II, Volume 2, Introduction to the Rite of Initiation to the Religious Life))
To see the list of all religious communities serving in the Diocese of Orlando visit www.orlandodiocese.org/clergy-religious/religious-men-a-women.