DAYTONA BEACH | Community leaders in the city of Daytona Beach and Volusia County have struggled for well over a decade to determine how best to serve the many homeless individuals so visible and needing assistance. After nearly three years of intense advocacy by F.A.I.T.H. (Fighting Against Injustice Towards Harmony) and other community organizations concerned about this issue and intense planning, Daytona Beach is preparing to open a new homeless shelter with Catholic Charities of Central Florida (CCCF) in charge of day to day operations. The hope is this 100-bed facility will help transition clients to independent living.
The shelter, to be called the First Step Shelter, results from significant funding contributions by Volusia County, Daytona Beach and a number of beach-side municipalities sharing concern about how best to serve homeless individuals. First Step Shelter Inc., a 501(c)3 created by the City of Daytona Beach, will have ownership of the land and facility once completed. The Board of Directors for First Step Shelter, Inc. is chaired by Mayor Derrick Henry of Daytona Beach and includes a number of government representatives and community leaders all investing in the project. Mark Geallis, former director of Halifax Urban Ministries and a long-time advocate and service provider to the homeless, is the Executive Director of First Step Shelter Inc. and works closely with CCCF, which is under contract as the managing partner of the facility.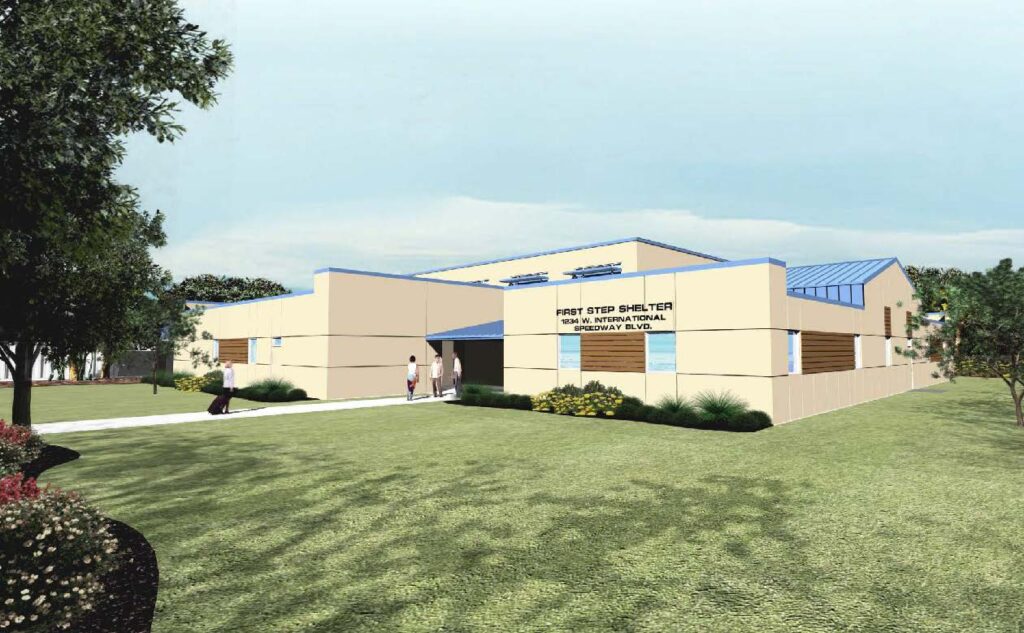 CCCF was invited to participate due to its reputation for quality, caring and effective services. CCCF will ensure trained and qualified staff are in place and that people are receiving what they need from a ministry standpoint 24/7, 365 days of the year. CCCF will coordinate the services of partner agencies to provide a well-rounded continuum of care to residents including general and specialized case management, behavioral health services (routine and crisis-based), health care services, employment skill development and housing navigation.
"Because of the nature of homelessness, those of us who think we can make a difference are often intimidated and don't comfortably reach out to them, so we perpetuate their situation," shared CCCF executive director, Gary Tester. "Not everyone on the street desires to be on the street forever… most just don't know there's a way out. Our goal is to embrace them."
William Bernardo was hired as the Director of Operations for the First Step Shelter on October 1, 2018. He has tremendous experience as a clinical supervisor and program director with community reintegration programs including work release and community corrections and believes that his experience relates directly to homeless individuals who often struggle knowing where and how to fit in to society today. He says the shelter plans to provide "general life skills regarding healthy relationships, financial management, behavioral health services and medical services, as well as master case management."
"Our hope is to provide an intensive level of support and service, designed to be transformational in the lives of people who are homeless and desire something different," said Tester. "We are concerned with providing more than three hots and a cot." He is referring to a more traditional temporary shelter model that offers refuge and three meals from 7 a.m. to 7 p.m.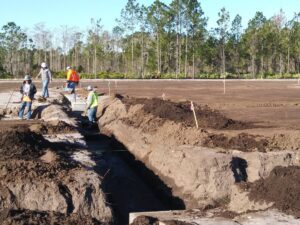 There has been some concern by advocates about the facility being several miles from where most homeless live. The location was selected by the City of Daytona Beach based on available property and there have been discussions about both public transportation and transportation provided through the shelter.
"One of the main challenges these folks have is, this is an issue of reintegration into a community that they don't necessarily feel a part of, for whatever reason – mental health, substance abuse, etc." Tester explained. "They've become more functional living in a dysfunctional way on the streets. In order for them to achieve a more normal style of life, they need a lot of support and assistance. They don't have social networks. They don't have relationships that foster employment and housing as readily as others do. They don't have all the information they need to navigate today's world."
Bernardo added, "Almost all of them have a story of how they became homeless and they don't see beyond that. They've kind of accepted that this is where my story ends. Through the services that we're going to provide, this doesn't have to be where their story ends. It can be a much better, healthier outcome."
Construction on the First Step Shelter is scheduled for completion in mid to late fall of 2019. Dialogue is also taking place with Stewart Marchman Act as the behavioral health provider, and Halifax Health along with a number of other community entities to coordinate medical/health care services. The next several months will involve finalization of food service, security, health care and behavioral health services and hiring the staff needed to operate the facility. Discussion with local officials including law enforcement and criminal justice representatives are taking place to ensure that a broad perspective of expertise is used to develop strong programming. Bernardo, Geallis and Joe Ramirez, Sr. Director of Finance for CCCF, have traveled to Lakeland, St. Petersburg, Miami, and Cincinnati gleaning best practices from well-known shelter programs.
Looking forward to the day that First Step Shelter opens, Tester reflected, "From a Catholic perspective, we are called to serve. We are called to implement the Corporal Works of Mercy. This shelter, in many ways, is just one very visible way of incorporating those Corporal Works of Mercy and embracing the vulnerable in a beautiful way that restores them to the dignity that should be inherent in anyone who is created in the image and likeness of God."
By Glenda Meekins of the Florida Catholic, January 28, 2019